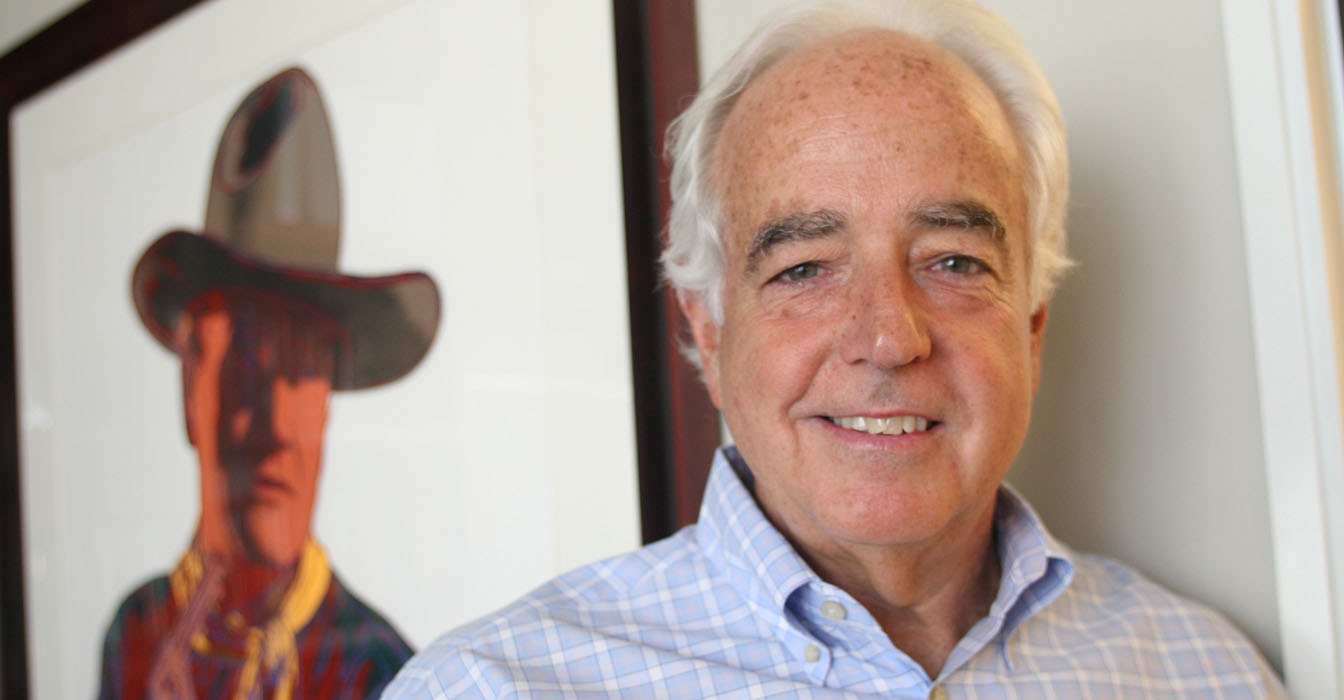 Photo by Hugh Williams. 
If you were casting the Cinderella story of lawyers, you'd have to give consideration to Thomas J. Nolan, world-class trial partner at Latham, whose rise from night school at Loyola Los Angeles to the biggest cases on the planet personifies against all odds.
He scaled the ranks of global litigators starting in the Los Angeles U.S. Attorney's office, forming his own firm, becoming Chair of West Coast Litigation at Skadden and now a partner in Latham's Complex Commercial Litigation & Trial Practice. He has represented corporate giants including Litton Industries, International Paper, Toyota Motor Corp., MGA Entertainment, and most recently, CashCall, in their biggest cases helping clients win more than $1B in trial verdicts and defeating claims of more than $15B. He's also made extraordinary public interest contributions, while always staying so very human.
A Lawdragon Legend for his 10-plus years as a member of the Lawdragon 500, he's a member of our Hall of Fame alongside many, many other honors. His story is one of incredible accomplishment, inspiring personal narrative and deep reflection on what it takes to rise all the way to the top.
Lawdragon: You are having a trial lawyer's dream career. What are your takeaways at this point for those who'd like to enjoy the same type of success?
Thomas J. Nolan: I've had enormous opportunities that catapulted me into cases where occasionally, while sitting in a boardroom or in a courtroom with millions at stake, I would think, "Boy, for a kid who the nuns had great concerns as to whether or not I would ever make it to college, this is a pretty amazing ride."
I never lost sight of how fortunate I have been and how lucky I was to have mentors at each stage of my career who pointed me in the right direction. So one of the takeaways would be to create the path you want to take in life, not only as a lawyer but also as a human being. I'd like to think over the course of my career I always focused on the humanity of any situation that I was dealing with.
If you wish to become a successful trial attorney, I would suggest you ask yourself a simple question; a brief test. Are you as comfortable talking with the people in the copy room of whichever law firm you are working at as you are in talking to your most important clients? The answer is relevant as it provides an insight as to how authentic you as an aspiring attorney are in your various relationships. To be a success in the courtroom, you have to be an authentic advocate. You can't fake authenticity, and if you try to, the jurors will reject the pretense. If you don't take the time to talk with the copy room personnel and other staff as part of an ordinary day, you can't possibly relate to jurors. You can best measure a young lawyer's authenticity by observing how they treat their co-workers, regardless of their status. It's disturbing how often attorneys can sit in conference rooms preparing for a trial and yet never acknowledge the kitchen help that bring in a fresh pot of coffee or clear away the lunch dishes. The reality is that the kitchen worker has a greater chance of ending up on a jury than any of the attorneys sitting around the conference room table. Show me the attorney who knows the kitchen worker's name and acknowledges them, and I will show you someone who might be able to relate to jurors.
LD: One of the most remarkable things about you, having known you for 30 years, is that you've never lost sight of who you are. How do you teach that to lawyers, as it's so easy to get swept up in self-importance with the world of law firms and big client matters?
TJN: This career has the potential of altering your values the higher you climb and the more you make.. Unfortunately, you can't win every trial so the valleys can be pretty deep. It requires that you constantly monitor your humility barometer. I used to meet with Skadden's first-year lawyers during orientation, and would warn them to stay authentic and remain humble. After welcoming them to Skadden, I pointed out that as First Year Attorneys in Big Law, before they billed a single hour, they were being paid more than 99 percent of the nation. I suggested "If you ever wake up thinking that you are actually worth what we are paying you, please consider going to another law firm." I explained that it had been my observation that those young associates who came to the firm with a healthy sense of entitlement were destined to fail. I encouraged them to leave their diplomas at home, because, although they all graduated from prestigious law schools, within two years nobody will care where they went to school. Rather, while an associate at Skadden they would be judged by the quality of their work, their work ethic and by how they treated their colleagues and related to the staff.
It's frustrating to watch attorneys who have no business standing before a jury pretend to be sincere, because you can't fake authenticity. So another takeaway is remain focused on being an authentic storyteller who the jury will trust not to allow them to do an injustice in the case. Every trial is a "morality play" which requires the trial attorney to remain focused  on persuading the jury that her or his client is more worthy and deserving of a favorable verdict.
LD: And what is it that you need to stay focused on?
TJN: If you want to be a trial lawyer, you need to be passionate about mastering the basics of trial advocacy. I ask associates whether they ever follow trials reported in the press, and whether they were ever curious enough to understand how the jury returned its verdict that they pulled the reporters' transcripts of the opening and closing statements of a particular trial. Or curious enough to go online and download a video of the cross examination of the key witness?
I confess that I have always been fascinated by trials and enjoy reverse engineering how verdicts came about. A recent example of my fascination was the second first-degree murder trial of the former New England Patriots receiver, Aaron Hernandez. I was driving down to the beach with my family when I heard on the radio that Hernandez was acquitted of first-degree murder after he'd already been convicted of first-degree murder in an unrelated prosecution, in another case of murder. I was intrigued that our justice system could produce twelve impartial jurors, all of them knowing about Hernandez's prior conviction and yet they acquitted him of all charges in the second trial. Rather than walking to the beach, I stayed behind and downloaded Jose Baez's opening and closing arguments. It was better than any movie, and Baez's argument was a masterpiece – both in content and style. The importance of the acquittal that Baez obtained for Hernandez was made all the more poignant with the news a few days later that Hernandez had committed suicide in his cell.
An aspiring trial attorney has to be passionate about mastering the art of persuasion. If you're going to make it as a trial attorney you need to put in the hours to learn the basics of advocacy.
LD: Can you explain those to us please?
TJN: Study the masters and read accounts of famous trials. At a very early age, I knew I wanted to be a trial attorney. When I was a freshman in high school, my first book report was on Louis Nizer's, My Life in Court.
In my senior year of high school, our civics teacher, Frank Ward, assigned the class to read the famous case of Palsgraf v. Long Island Railroad. I am not certain what the purpose of the assignment was, but at Glendale Law Library, I pulled everything I could find about the case. When we had the discussion in class, it was obvious to Mr. Ward that I had spent a lot of time studying the Palsgraf decision and the concept of duty and foreseeable risk. After listening to my discussion in class, Mr. Ward turned to the class and said, "How many think that Tom Nolan should be a lawyer?"
That was my first validation as an advocate. And, I remember to this day that very moment, the classroom and what row I was sitting in when I talked about the Palsgraf case. I did it without any notes, and, to the dismay of my colleagues, I still deliver opening and closing statements without notes as I find them to be distracting. It's a weakness I wish I could overcome, but notes distract me. If I was having dinner with a friend and recounting a story, I would hardly pause to refer to a note or two. I feel the same way standing before juries.
LD: Can you tell us about two or three of your favorite cases and what makes them memorable?
TJN: I was very fortunate that after graduating from law school I was hired into the U.S. Attorney's Office in Los Angeles.
One of the early cases I was assigned to was a rare federal murder trial conducted in the Central District. A U.S. Postal Inspector was murdered at the last stop on his collection schedule. In those days, Post Offices often carried substantial amounts of money, which would be collected by designated postal trucks. He was murdered during an armed robbery of his mail truck. We turned an informant, and a stake out was set up as the defendants planned to rob another mail truck. The informant drove the Cadillac get-a-way car, which had been heavily wired by the U.S. Postal Inspectors. Unfortunately, the recording device was concealed under the front seat of the Cadillac, immediately adjacent to the front seat's electrical motor. As luck would have it, as the monitored mail truck proceeded down the alley the defendant sitting in the front seat started to fiddle with the electric front seat just as he stated, "Let's get this guy just like we did the other white guy.…."  At the exact moment, the killer made the incriminating statement a train went by only a few yards from where the Cadillac was parked. After the arrest, the Postal Inspectors retrieved the tape recording device only to learn that the incriminating statements, made over 27 seconds, was inaudible because of the audio contamination caused by the electrical motor and the sound of the train roaring by.
In 1978 when the case was tried, neither the U.S. Postal Service nor the FBI had the expertise to filter out the background noise of the electrical motor and train. However, the agents located a sound technician who was developing a method to digitalize analogue tapes, which then would allow any competing audio signals to be separated. He was hired to work on the 27 seconds of our tape recording, for which the cost was approximately, $25,000. That was a huge amount to spend those days; however, it was well worth the expense, as we were able to play the dramatic 27 seconds before the jury, which led to the conviction of the two defendants who are both serving  consecutive life terms.
LD: What a way to start your practice. What other cases come to mind?
TJN: When I left the U.S. Attorney's office, I joined Stephen Miller who started his own small boutique criminal defense firm. We were hired to represent the son of a well-known tax lawyer, who was also President Ronald Reagan's alter ago. The son had schizophrenia and had tragically raped and killed his mother. As part of our trial preparation, I met with the incarcerated son on nearly a daily basis. We became quick students of the insidious mental illness of schizophrenia. At trial, I was assigned to cross-examine the coroner with the goal of establishing that at the time of the sexual assault, his mother was dead. He was found not guilty by reason of insanity. As I was cross-examining the coroner I thought to myself, "God please do not let my mother walk into this courtroom." Our client was found not guilty of first-degree murder by reason of insanity. He was acquitted on the charge of rape, as it is not a crime in California to rape a corpse.
The memory of that case is seared in my mind since I had to sit down with the father and tell him that in addition to his son being charged with killing his mother, he was going to be charged with the rape of his mother. I recall that day as my heart broke while delivering that horrific news. Shortly after delivering the news, our office receptionist came into the conference room and announced that the White House switchboard operator was calling, as President Reagan wanted to express his condolences to his long-time counselor.
LD: That's a tough day.
TJN: Another memorable case was my first civil trial. I was a partner in the Los Angeles office of the D.C. firm, Howrey & Simon when I got a call from one of Howrey's senior antitrust partners. He explained they had an antitrust case scheduled to be tried in front of L.A. federal judge Mariana Pfaelzer, Litton v. Honeywell. It was a battle that had taken on a life of its own, had endured 10 years of litigation, and they wanted me to meet with the general counsel of Litton Industries, in part because I knew Judge Pfaelzer. The general counsel of Litton, John Preston, was there. I made the presentation, and he asked me, "When was your last trial?" I told him about a case I had  just defended involving criminal charges against a Hassidic rabbi. John left, and my partners glared at me wondering why I talked about a criminal trial; but he had asked me a question, and I answered it.
The next day John said that I would have to try the case. He's another person who made a great difference in my life. I had never tried a civil case in my life, which I don't think anybody knew at the time. That led to a huge trial with Gibson Dunn's antitrust legend, Bob Cooper. I bought the book Antitrust- in-a-Nutshell and started reading it because I had not studied antitrust in law school. The jury came back with the verdict of $234 million. Judge Pfaelzer was clearly disappointed by the verdict and granted Honeywell's motion for new trial limited to the damages phase. In the damages retrial, Honeywell added to its defense team, another iconic antitrust lawyer, the late Max Blecher. We skirmished on pre-screening jurors and tried it again. The jury came back in an hour-and-a-half and awarded Litton  $250 million. A juror came to me later and apologized that it took so long explaining that the clerk had taken his time bringing the trial exhibits back to the jury room. Another example that I must have been born under a lucky star.
LD: Did that mark your move to handling more civil cases?
TJN: It did, and I don't think anyone knew it was my first civil trial. So in my first two civil trials we had achieved a $234 million verdict followed by a $250-million verdict. Judge Pfaelzer accepted the second verdict and awarded Litton $40 million in attorney fees. With the verdict trebled plus the attorney-fee award, we had obtained a $790-million judgment which was settled for $400 million while on appeal. We had an incredible trial team with the old-guard antitrust lawyers setting aside their own egos to help an upstart antitrust lawyer.
After I moved to Skadden, I was fortunate to work with Jay Kasner, a well-respected and senior partner at Skadden. Jay was the lead attorney on a team of approximately 40 other Skadden attorneys who were representing J.P. Morgan and a syndicate of other underwriters of bonds issued by WorldCom. Jay and I became fast friends and I moved back to New York for five months as we prepared for trial. I also became fast friends with a jury consultant, Steve Lybrand. Circumstances led to us having to settle the case the evening before jury selection. I will always regret not having had a chance to try that case to verdict, but the case is a good example of how some cases are just too large to try. The underwriters' exposure was $10 billion. Although we were doing well with focus groups, $10 billion of shareholder equity was too great to risk and the Board voted to settle the case on the eve of jury selection.
As I was walking out of the JP Morgan Board Room. I was feeling pretty low as we had worked so hard to get the case prepared for trial. However, I had a flashback and reflected on how far I was from my civics class in Burbank, but it was also another example where so many talented colleagues set aside their own egos to ensure that I was as prepared as much as possible to master the defense of the WorldCom underwriters. I am sure many felt they were more qualified and deserving to be sitting next to Jay at counsel table; however, that was one of the qualities of being a Skadden partner. Jay was generous with his time, and he was instrumental in my integration as a Skadden partner. I was fortunate to work closely with Jay on several other major securities cases filed in the Southern District of New York Amazing things happened for me while at Skadden as I had amazing cases, including the defense of Wells Fargo in a rare trial involving violations of California's Unruh Civil Rights Act, the defense of Toyota against allegations of unintended acceleration in their vehicles equipped with fuel injection systems, the defense of UBS in a billion-dollar mortgage-backed securities trial and of course the Barbie v Bratz doll wars jury trial.
I referenced earlier Steven Lybrand, a jury consultant I met during the WorldCom. I was fortunate to recruit Steven to accept an in- house position at Skadden. Steven joined forces with Aaron Shorr, a court room technician I brought over with me from Howrey. Every client I worked with and every juror I interviewed after a verdict, described Aaron a as a magician with technology. Aaron was with me for seventeen years and became so close that he would anticipate a point I was about to make, before I made it. He clearly had the hardest job as I notoriously never follow a prepared script or outline. After Steven joined Skadden, he and Aaron formed a powerful in- house machine that distinguished Skadden's Trial capability from their competitors. I was was so fortunate to have spent the last ten years of my time at Skadden teaming up with Steven and Aaron as there was never an occasion where I didn't have them at my side. Although we would also use outside jury consultants, Steven and Aaron would be the last I would listen to before walking into court. When it comes to picking a jury, Steven has a special genius of identifying how jurors think. Steven and Aaron also servered as great mentors to younger attorneys who wished to master the art of persuasion. I am fortunate to consider Steven and Aaron as close personal friends who would also be brutally honest when they thought I needed to step up my game. So another piece of advice for anyone wanting to become a trial attorney, surround yourself with colleagues who are independent thinkers who resist "group think" and will not hesitate to offer constructive feedback.
LD: Can you tell us a bit more about the epic "doll wars trial" which pitted Mattel against MGA? How did that come about?
TJN: I have two daughters but neither played with dolls, so I had no idea what a Bratz doll was when I got a call from MGA's General Counsel. Nor had I ever tried a trademark or copyright case. I met with Isaac Larian, the CEO of MGA, and he pressed me on whether we could be trial ready within four months. Apparently, the other law firms Isaac was considering had said they wanted a continuance of at least three months just to evaluate the case before they could decide if they would accept the engagement. I had the advantage of having a number of Skadden colleagues with whom I had tried cases. I told Isaac that if he wanted us as his trial counsel, we were prepared to jump in the deep-end with him and we would learn how to swim. We were hired and lined up against a team from Quinn Emanuel, led by John Quinn. It was like drinking from a water hydrant. We were facing approximately 90 open discovery issues as the trial date was fast advancing. In the end, the trial court granted us a thirty-day continuance but we were constantly under siege.
In addition to learning trademark and copyright principles, I had to learn everything I could about a Bratz doll. Our girls never collected dolls when they were young, but – as they always did during other trials – they were supportive. Whenever they had friends sleep over, I would use them as my early focus groups helping me prepare to explain to a jury how Bratz dolls differed from Barbie dolls. They taught me the intricacies of the Bratz unique fashions. I would show them Bratz dolls and their various fashions. My daughter's high school friends became my first jury focus group for the Bratz trial.
For Bratz, I learned everything I could about copyright and trademark, and the rest is history. We tried the case and lost the first phase of the trial. The jury found that the Bratz dolls were designed by a Mattel designer working on his own time at night. We were devastated by the verdict, but we had to prepare for the damages phase. There was no time to lick our wounds. We had to keep pushing. I remember it was during the Summer 2008 Olympics, and while sitting in my hotel room, I watched Michael Phelps win one of his gold medals by his sheer force of will.  Phelps lunged for the wall at the very last minute and outreached the other swimmer. He won the Gold even though 5 yards from the finish he was destined to finish in second place. I asked our trial team to watch a rerun of the race on a TV in our hotel conference room and asked them to commit to continue to out-work the Mattel team. In the end, we had to exceed Mattel's reach for a $ 2-billion prize. I asked them to do what Phelps did – never give up. That became our mantra. It also reminded me of the importance of staying in touch with the humanity of a stinging loss.
In the second phase of trial, Bill Price of Quinn asked the jury to award Mattel $2 billion in damages. The jury came back and awarded $100 million, which was a lot of money. However, it was less than what industry consultants had predicted. The Wall Street Journal reported the outcome with the headline, "Barbie Wears Black: Mattel's Damages Come in Way Low." Losing the first phase of Bratz was probably the lowest point in my career.
LD: You're not a trial lawyer if you haven't lost a case. Can you tell us a bit more about your first trial, which you lost? The defendant had been a prison inmate who did not return from furlough, and the jury acquitted him because he claimed he was abused by prison gangs.
TJN: Oh man, the memory of that loss still stings. I was pretty full of myself, as I had just been hired as an Assistant U.S. Attorney straight out of night school at Loyola Law School. I thought I had reached the top of the mountain I had started to climb early in high school. However, I soon then realized there were many more mountains I would need to climb. That first loss framed how I had to prepare for a trial. That was my first encounter with not only the fear of losing, but the reality of a loss. The reality of losing. I felt like I was against all odds.
For me, the fear of losing had become a reality in my first trial. Personal. Was I doomed to be a failure? All of my hopes and dreams were in jeopardy. My personal challenge was that I feared I would always be marked as a loser. Upon reflection, losing my first trial was the best thing to have happened to my career. I hated to lose, and I willed that I would do everything necessary to avoid that experience. I would not simply walk away just because I was hit in the face.
And, if you talk to any of the great trial lawyers, I bet you in their souls they would say the same thing. At the end of the day, it's not as much about winning or losing, but rather how did you prepare for the case. In the end, you need to reflect on how you performed before the jury. Did you give every ounce of your being to the cause? I submit that another hallmark of a trial attorney is the power of self-reflection. You can fool some people but you can't fool yourself. It is critical for trial attorneys to be prepared to embrace people along the way who will make you a better lawyer, and more importantly a better person. Count on family, friends and colleagues to keep you authentic.
LD: You've been at a small firm, a big firm that collapsed and two of the world's greatest law firms. Do you think firms are a great thing or a necessary evil?
TJN: Big law firms are often described as "necessary evils". However, the connotation is unfair as they bring power to circumstances where access to social justice is under siege.
In the WorldCom case, I was fortunate to work alongside a brilliant lawyer who had been battling for several years the AIDS virus.  We became close friends and during the long lead up to the WorldCom trial date we would often talk about a myriad of subjects, from trial evidence rules to discrimination, and everything in between. On a Saturday morning several months after the WorldCom settlement, I received a call from David. After "hello" he said, "Tom, I'm going to die and I need a favor."
And he told me he had a case that he wanted me to take over in the event he died. The case involved a high school girl who was gay and outed and harassed by her classmates. The school district did nothing to stop the harassment, so David took on the case and sued the school district. Six months later, David died. I went to New York and got ready to try the case and we went to a court-mandated mediation. The mediator advised us what he thought the case was worth as he doubted Skadden would front the expense of a trial when a reasonable settlement was in the offering. I explained that he was grossly underestimating both Skadden's and my resolve to see the case through trial and an appeal if necessary. I explained that I wanted to meet with the school district's General Counsel and his trial counsel. At the meeting, I relayed my last conversation with David and my promise to him, which was fully endorsed by Skadden's Chairman. I told them that we were prepared to take the case to trial and would fight them with every ounce of my being and the power of Skadden Arps.
So the case settles. And as I'm leaving the conference room, the lawyer from the agency asked, "Are you happy with the result?" Someone else mentioned it was the second-highest settlement for that type of case. I couldn't suppress my Irish heritage nor my competitive spirit, so a bit peeved, I turned and asked, "Who had the highest?" And they advised that it had been achieved by David. That's the power of Big Law. I am proud to be now at Latham where the same commitment to ensuring access to justice for the most needy exists. So for those that view Big Law as a "necessary evil", my response is "hog wash."
LD: Do you have superstitions as a trial lawyer?
TJN:  After my win in the Litton case, my older sister gave me a memento, my father's college ring. I carried the ring in my suit pocket in every case that I tried after Litton.
Unfortunately, a few years ago our home was burglarized and the SOBs stole my wife's jewelry along with a couple of my watches and my father's college ring. Two years later, they arrested the person, and I went to the arraignment and talked to the defense lawyer. I told her that I'd do everything I could to help her client if she just helped me get my father's ring back. I never got it back. That ripped me up.
LD: Tell me about your Dad, who passed away when you were six. He and your Mom are a touchpoint of almost everything you say and do.
TJN: My father went to Fordham Law School and after graduation became an FBI agent. After that, he became the head of security for a liquor distillery and then died of a heart attack – he was only 39-years old. A burning question for me as I grew up was why my father didn't practice law.
Fast forward some 49 years later when I was interviewing with Skadden Arps, my last interview was with the legendary Joe Flom, and he asked me, "Why are you hesitating?" I said, "I don't know, this is the Big Leagues, Joe. I'm a kid from night school." And he looked at me and said, "Tom, do you know why we formed this firm? Because in 1948, if you were a Catholic or a Jew, you could not be hired in a law firm."
I was born in 1948, so that gave me the answer I had been searching for. My dad was an Irish Catholic and the many doors that were held open for me, were closed shut to him and so many other Catholics and Jews.
LD: It must mean so much to you knowing how you carried on from your father.
TJN: I hope so, but I always feel I am on an endless journey hoping to earn his approval. My last trial as a Skadden partner was for UBS in New York, involving mortgage-backed securities, and several billion dollars were at stake. I was dizzy with the opportunity to try a case in the Southern District of New York, situated in the heart of Foley Square, where my father was an FBI agent, where my mother worked at the FBI and met my father.
The night before I was to deliver the opening statement, I went out and had an Uber driver take me to Pelham, New York, just outside of Westchester, to my father's grave. It was a beautiful evening and I just sat down next to his gravestone appreciating the fact that my father couldn't have gotten a job in a New York law firm and now his son was about to deliver the Opening Statement in a trial with a couple of billion dollars on the line. I didn't need any closure, I just wanted to share the moment with him out of respect. So I just said a silent prayer in gratitude and ended with, "Hey Dad, this is pretty cool."
Maybe the life lesson is to never forget who you are and never pretend you are something you're not. Just be authentic and be prepared to work your tail off. In the end, buckle up as the ride is going to be amazing.
About the Author: Katrina Dewey (katrina@lawdragon.com) is the founder and CEO of Lawdragon, which she and her partners created as the new media company for the world's lawyers. She has written about lawyers and legal affairs for 30 years, and is a noted legal editor, creator of numerous lawyer recognition guides and expert on lawyer branding. She is based in Venice, Calif., and New York. She is also the founder of Lawdragon Campus, which covers law students and law schools. View our staff page.