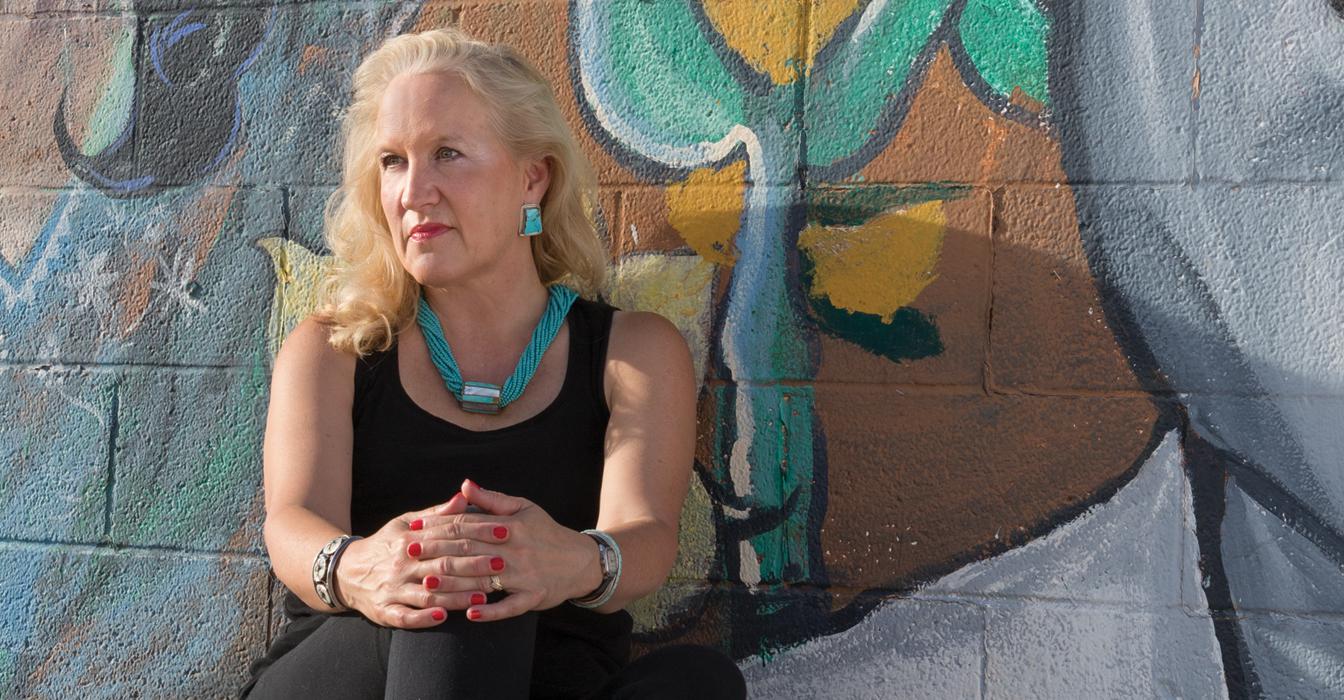 Photo of Randi McGinn by Kip Malone.
"In her difference is power."
The intersection of women in the law is at a flashpoint. Unequal representation of women in firms and the courtroom and the impact of #MeToo from law school to the Supreme Court are roiling the profession. So who better to talk to about women in law than two of the nation's best trial lawyers at a firm whose named partners are all female? The firm is McGinn Montoya Love & Curry and its partners seek to make a difference every day in Albuquerque, Santa Fe and throughout New Mexico.
Randi McGinn has long been one of the nation's most storied trial lawyers. She gave birth to her daughter the day before the bar exam and once caused a witness to throw up on the stand. She's tried more than 100 cases and won millions while pursuing community and social justice causes in New Mexico. Kathy Love has used her commitment to social justice and to improving people's lives in court – winning a $65-million jury verdict for the wrongful implant of a pacemaker, among many, many other cases.
The quote – "in her difference is power" – is McGinn's. Its words need no elaboration. In 2018, women comprised 34 percent of our annual guide to the nation's best lawyers. Our research shows that women in many regions do not have equal opportunities in court and in law. But it also screams that if you actually look for women leaders – with fresh eyes unclouded by old definitions of power – there are hundreds. And from hundreds come thousands from which come hundreds of thousands from which come change and true equality.
For McGinn and Love, being a woman in court is to take the front line of the battlefield. And that's precisely where women belong.
Lawdragon: Why do you think there are still comparatively fewer women trial lawyers?
Randi McGinn: Sadly, many law firms don't recognize that women have an advantage as trial lawyers in the courtroom and make the mistake of keeping them in the office rather than putting them on the front lines before a jury. With four women partners, our law firm doesn't make that mistake.
Kathleen Love:  It won't be for long. Earlier this year I had a monthly breakfast meeting with a group of women trial lawyers. Maybe my group is powerful and energetic so we seem larger than we are, but we are a big presence and our group is growing. Women law students now outnumber men.
When I talk to young women who are beginning their legal careers, I find that many of them want to do trial work because it is a place where they can make a difference for people and for their communities. There is no greater power to exact change than the power wielded by a jury. Trial work was a hard area of the law for women to break into because they were expected to emulate men in their styles of conflict resolution and at battle in trial. It turns out that, when they simply are who they are, women are some of the fiercest advocates in the courtroom.
LD: What can be done to increase the ranks within the trial bar?
RM: Letting them see successful women trial lawyers. One of the reasons I travel and speak around the country one-to-two times a month to bar associations and national lawyer organizations is to encourage young women lawyers to go to trial. They can learn the skills they need; they just need to believe in themselves and their innate talent for teaching and storytelling.
KL: Women must help other women. The strong women in our society who have stood up against sexual harassment and abuse, and those in the #MeToo movement who have backed them up, are bringing women together. They are encouraging the idea of holding up other women rather than competing with them as women have traditionally done. I enjoy mentoring young women trial lawyers. I don't believe in hazing – making them go through what I went through. Instead, I prefer to teach them what I have experienced so they can do things better. (Photo of Kathy Love, left, by Kip Malone.)
LD: What is some advice you'd give to young lawyers looking to advance in the profession?
RM: Become a student of storytelling. When you read a book, or see a movie which resonates with you, study why it was so effective. Was it the sequencing of the facts? Was it the point of view from which the story was told? Was it the power of the language or visuals used? Then, take what you've learned and bring it into the courtroom.
KL: Work hard, be reasonable, leave your ego at the door or you'll miss out on opportunities to learn and improve. Watch how other people work, then find your own style that fits you and only you.
LD: Are there certain characteristics of women trial lawyers that you see as an advantage in a courtroom or litigation generally?
RM: A woman's advantage in the courtroom starts with the fact that she doesn't look like society's stereotype of a lawyer. That is wonderful because jurors don't like "lawyers" and are looking for an ordinary person to help explain this strange new world to which they have been summoned against their will. In her difference is power. She starts with more credibility than the men in suits. So long as she doesn't squander that credibility, the jury will look to her to guide them to the correct result.
KL: Women aren't in this for the fight. We're in it for a fair and just resolution, which we aren't afraid to fight for. That end goal makes it easier to put egos aside and keep our eyes on justice for our clients.
LD: Do you see having a work-life balance as an ongoing challenge or issue, or was it for you?
RM: There is no such thing as "balance" or "having it all," unless you never want to get any sleep. You deal with whatever is on fire at the moment. Some days that means shorting your family. Some days it means shorting your job. Always, it means shorting yourself. The key is to give and enjoy 100 percent whichever activity you are doing at the moment. Most importantly, you should give up feeling guilty. This is how real life works. It is not perfect. It is messy and exhilarating.
KL: I used to think that the ever-elusive goal of "work-life balance" meant that I should be effortlessly gliding from school drop off to work, meetings, depositions, to the gym then home to prepare fresh meals to sit down with my family and share the ups and downs of the day before a little reading time before a good night's sleep. There is no such thing. Balance means sometimes you're up, sometimes you're down and all you can hope for is that the ups and downs average out in the middle. The truth is, sometimes I feel as if I'm not giving enough at home, sometimes I feel like I'm not giving enough at work and I nearly always feel as if I'm neglecting myself. This is a constant work in progress.
LD: You are both mothers. Are there ways in which it makes you a better lawyer?
RM: It teaches you about deep love and the importance of family. After becoming a mother, you can understand the losses suffered by our clients and how losing a child is the worst thing in the world.
KL: I have always been motivated by fairness and the idea that when we all do better, we all do better. When I had my son, I felt even more responsibility to help make this community and this world a place that is worthy of him. Each day as he becomes more thoughtful, inquisitive and opinionated about the world and how things should be, I become more committed to be an advocate for justice who he will one day know worked hard to make things better for him, his children, and his community.
LD: What is the most interesting thing you've done as a trial lawyer?
RM: Being appointed as a special prosecutor to try the first criminal case ever in New Mexico against local police officers for an on-the-job shooting death of a homeless camper.
KL: Being a trial lawyer means that I get to learn about careers, places, medical procedures, people and industries that I would never have otherwise encountered in all my life. So, it's impossible to pick just one thing. I have donned a hard hat and toured mines and watched the copper-smelting process. I have met people from all walks of life and in all corners of the state of New Mexico. I have watched how a mother lovingly cares for a child who was formerly normal and healthy, but is now catatonic due to medical malpractice. Every day as a trial lawyer is interesting because the work requires me to walk in others' shoes, see their perspectives, and learn their experiences.
LD: What is the most rewarding part about your career?
RM: Instead of just asking for money, we ask for changes so that no one else is harmed from the defendant's bad conduct in the future. Since we began practicing transformative law, we have helped make the community safer through adding signage on dangerous roadways, placing warnings on hazardous products, establishing training programs in hospitals and changing the law to prevent convenience stores from requiring clerks to work alone on the graveyard shift. This kind of change is the most rewarding thing we do.
KL: In my practice, I focus not just on getting justice for my clients, but also on making changes for the community so the atrocities my clients suffer aren't repeated. Most people who come to me after the worst thing has happened in their lives – loss of a child, spouse, catastrophic injury, etc. – don't come to me because they want vengeance. They come to me because they don't want this to happen to anyone else and they don't want their loved one to have died in vain. There is nothing more rewarding than seeing a client at the end of a case find a small window to peace because I have made a change in the name of their loved one.
LD: What career advice would you give your 20-year-old self now about trial law?
RM: You have found your dream career. Work hard to learn your craft because future clients will need you to be their champion.
KL: Be your best you and no one else. And bank some sleep while it still comes easy – you're going to need it.
About the Authors: Katrina Dewey (katrina@lawdragon.com) is the founder and CEO of Lawdragon, which she and her partners created as the new media company for the world's lawyers. She has written about lawyers and legal affairs for 30 years, and is a noted legal editor, creator of numerous lawyer recognition guides and expert on lawyer branding. She is based in Venice, Calif., and New York. She is also the founder of Lawdragon Campus, which covers law students and law schools. 
Amanda Ciccatelli (amanda@lawdragon.com) is a contributing author to Lawdragon's editorial team.