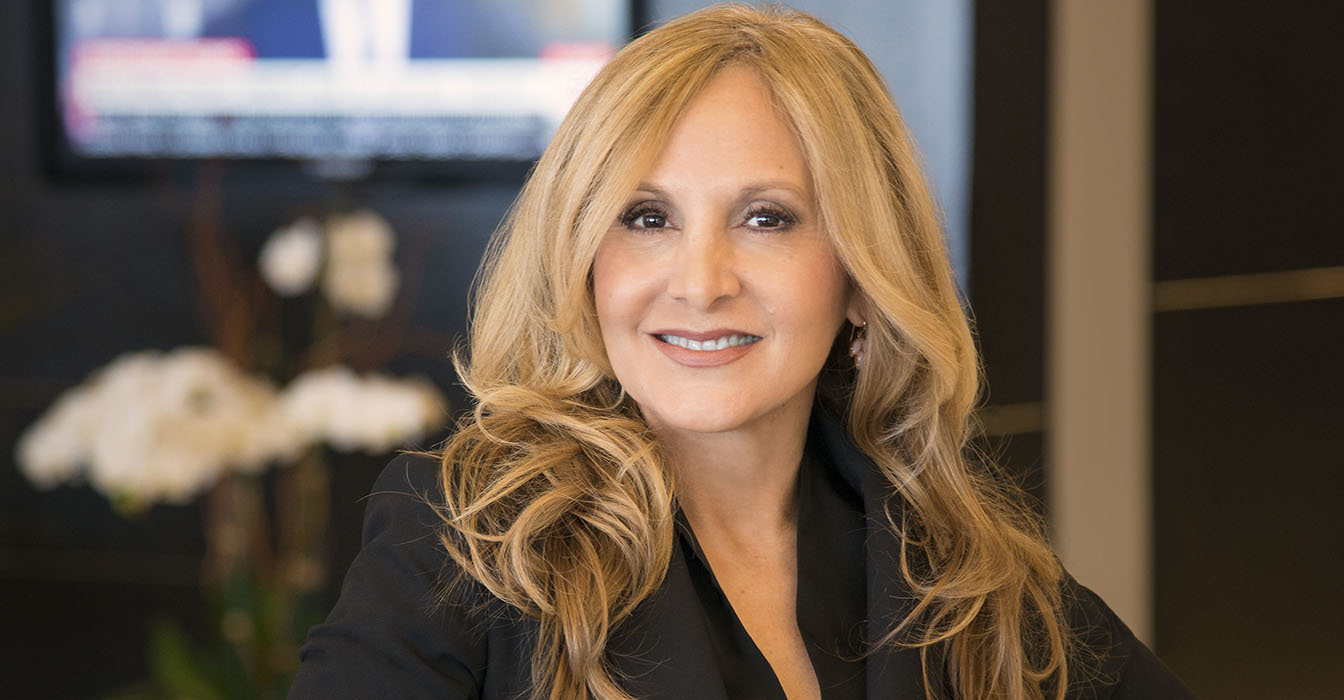 Photo by Amy Cantrell.
Angela Agrusa of DLA Piper practices law the way it should be practiced – with conviction, clarity and intellect. One of the nation's top trial lawyers, Agrusa may seem like a conundrum but to those who know her personally and have observed her in the courtroom, she is consistent and uncompromising in her belief that there are two sides to every case and that a lawyer worth her salt should be able to make compelling arguments even in the face of unpopular sentiment. Her loyalty to her clients is as fierce as is her commitment to the intellectual pursuit of the truth. She has a gift for presenting arguments to judges and juries that are as unorthodox as they are convincing – and that often appeal to issues larger than the individual case.
She has parlayed her meticulous initiative into a career as a leading trial lawyer with a specialty in bet-the-brand litigation for companies and individuals from Dannon to Peter Frampton to Hilton Hotels.  But it was her star turn as one of Bill Cosby's lead defense lawyers, winning a hung verdict for him on criminal charges, that made Agrusa herself a global brand.
These days she's helping a who's who of corporations that value her in-depth strategic analysis, her proven abilities as a courtroom warrior and a take on risk-taking that is all her own.
Lawdragon: You've been a brand whisperer from long before lawyers talked about branding, serving as lead class-action counsel for Hilton Hotels and White Wave (makers of Horizon Organics and Silk Brands). How did that come about?
Angela Agrusa: I've had this quintessential brand crisis practice before people even called it brand crisis. From my earliest years as a lawyer, I have represented clients, both high- profile individuals, corporations and municipalities, in highly sensational cases, defending their business practices and reputations, both in the courtroom and in the court of public opinion; a dual discipline practice.  My first jury trial was defending a major oil company against crude-oil price-fixing allegations brought by the State of California.  Pre-internet, reporters from the Wall Street Journal, LA Times and NY Times were in the courtroom daily.  From there, I represented the parent of a maker of silicone-gel implants defending through grant of summary judgment thousands of  breast-implant actions.  I have represented celebrities and financial wizards in litigation directed at their personal lives, putting at risk their businesses and professional reputations.  I have tried a case against the State of California arguing that the government, like individuals, has to be accountable for its contracts and promises.  Again, the press following and reporting on our every litigation move.
What I most love about my practice, is the ability to defend my corporate clients who are interfacing with their customers in delivering products and services that we use every day.  With a number of my consumer-inter-facing clients, I am able to defeat and/or resolve claims against them across the country with potentially hundreds of millions in damages at stake, while still preserving the clients' brand integrity. That's key for the companies I defend.
I love the challenge of defending clients against provocative, headline-making accusations, through highly deliberate legal strategies and nuanced messaging, often in the voice of my client's own brand which is not necessarily intuitive to lawyers.
LD: Does successfully articulating your clients' message make the difference?
AA: In my practice, it makes all the difference.  Honed since my earliest years in the courtroom while the media watched, I have not only developed a unique ability to handle public-relations strategies in the midst of litigation, but the ability to utilize those strategies to influence today's first tier of decision makers – the court of public opinion.
Today, legal claims and accusations are repeated, reported on and spread through Twitter and Facebook before they ever get to the judge, let alone a jury.  Clients have to react quickly to protect their brands without jeopardizing the legal defenses yet to play out in the courtroom.  Protecting a client's brand in the midst of litigation is a delicate balance and message discipline is critical. It's crucial to understand how the media – including social media – can influence an outcome.
When I file briefs today on behalf of clients we are cognizant of and often even playing to the multiple levels of audiences.  Today it is not just the judge and jury that are making critical decisions about the claims, but our audiences also include our client's customers, competitors, and their industries at large.  My approach is to defend my clients on the law, but conveyed in a voice and manner that is consistent with their own brands and that will respond to their customer's expectations.  This means that my briefs may not read like the ones taught in law school writing classes or that my recommended settlement approach may not reflect the same pattern of other class settlements.  As those who work with me know, never tell me that I cannot pursue an idea or a strategy because "that is not how it is done."
What I do for my clients is not just resolve the litigation favorably, but navigate the litigation in a way in which we can protect their brands and reputations, assets in which they have invested millions and millions of dollars.
LD: Sounds like you have a cool, analytic ability to look down the road and identify risks, roadblocks and identify exit strategies. Where did you learn that?
AA: I am a bit of a law nerd.  I have always liked to study law and society to try to predict litigation trends.  About a decade ago, as the economy was shifting, Obama was coming in, and the tobacco cases had run their course, I saw lawyers with a lot of false advertising experience and shrinking case inventory.  I also saw expansion in food products — the organic market was growing, supplemented foods were becoming more prevalent, and the new First Lady was creating a platform for food safety.
Observing those things caused me to think this was an area that very well could be changing the landscape of the law. While I had defended food companies in traditional brand-related actions, I began to speak to them about the risks of false-advertising claims.  That insight and outreach resulted in my being hired in a significant multidistrict litigation by a company that wanted a woman who might resonate with a jury talking about food safety for children. It was a perfect storm of experience and opportunity.
Since then, clients have sought me out.
LD: How has that practice continued to develop?
AA: Consumer marketing litigation is all about the human experience, and there are a lot of opportunistic lawyers in this country who file lawsuits because it looks like they will be lucrative. Certain things go on in the advertising world that are unfair. I intervene to help clients make smart decisions and to defend them against opportunists.
LD: Can you explain that tension a bit, for makers of foods and beverages that claim health benefits? We all want to have healthy products these days, so it's a great marketing tool.
AA: There's an interesting dichotomy for my clients between the legal and the creative. They want to be compelling and have their product stand out, but they still have to comply with the law. I see this often with supplemented products, as Americans today want to be able to get their vitamins from sources other than whole foods.
My clients need to comply with the Food & Drug Administration; the Federal Trade Commission; and then act in adherence with case law.  The agencies can only do so much. Courts now step in to fill the gap. There's lots of inconsistency in food litigation and it's hard for clients to guide themselves.
I'm also working with brand loyalty. Our culture now is about rewarding loyalty — people have relationships with the brands they like. As companies solidify the ways they reward that loyalty, it gives rise to privacy and disclosure litigation. I apply my experiences and insights to guide my clients as they make those decisions.
LD: Another area of expertise for you is privacy litigation, which you've successfully handled for hotel brands like Omni, Hilton and The Cosmopolitan of Las Vegas, and municipalities like the City of Los Angeles, including through appellate court litigation. Can you tell us about that?
AA: My work for these entities is also about brand protection.  I have represented them  in telephone privacy class litigation in which claims were asserted that customers' privacy rights have been violated in their communications with the brands that they have otherwise loved and frequented.  The violations plead in those cases carry business-staggering penalties and damages. Over the years, in the face of multiple cases, we have defeated class certification and achieved summary judgment.  Because settling these cases is so difficult for a brand's integrity, particularly when the damages are so high, I enjoy working with clients who see the business necessity to defend their business practices in order to maintain and preserve customer loyalty.  In fact, my focus in consumer litigation right now is the difficulty that faces defendants in trying to settle these cases.
LD: How do you resolve cases for a defendant who doesn't want to spend millions litigating?
AA: Many plaintiff lawyers don't understand how to settle and get benefits to the class. So, I've been coming up with unorthodox and unique ways to do so that have been approved by the courts and which are also very advantageous to clients.
LD: So, I have to ask, with a career firmly established in the world of civil law, what made you want to defend Bill Cosby?
AA: People continue to ask me how I decided to represent Cosby. There is no denying that the Bill Cosby brand was iconic, but I actually opted to take on the representation for a number of reasons.
I am the daughter of a police officer and an early feminist.  My parents impressed on me the importance of independence, justice and accountability for our acts. I grew up with a strong sense of justice, an appreciation for the law and the belief that my own voice mattered.  I have always been an advocate for the underserved, and a feminist.  At 13, I was writing letters to the editor of my local newspaper and at UCLA, I was one of the first 100 women to graduate from the Women's Study Department.  My first actual legal job was an internship at the ACLU during law school.
I'm a steadfast believer in our constitutional protections. I believe in the right to a speedy and public trial by an impartial jury, the concept of innocent until proven guilty, and the right to face one's accusers. In Cosby's case, he was a blind black man facing accusations dating back half a century, and he was being tried and determined guilty in the court of public opinion – before he ever had his day in court. I felt that if the Constitutional protections could be abandoned for this wealthy man, the rights of voiceless others were at risk.  I believed in my own ability to navigate my ACLU and feminist principles to uphold an accused's rights while never stooping to the "victim shaming" tactics to which many alleged accusers of sexual assault are subjected.  Throughout the trial, I cross-examined the women who came forward with respect and actually implemented civil litigation strategies by resorting to examination on phone records, travel documents, and timelines to raise reasonable doubt.
I think the polarities inherent in my life experiences have given me the ability to see things from a number of perspectives and to empathize. I understand that there are nuances and complexities that aren't always evident at first blush. Attorneys whose mindsets are fixed and linear may not be able to diverge from one belief pattern. I don't see things as simply either/or. My understanding that the world is a complex and complicated arena allows me to make unpopular accusations defensible.
Whether their position is popular or not, I am a fierce advocate for my clients.
LD: You are so skillful at looking down the road. What do you see ahead for your practice?
AA:  Today, I see this interesting collision on the subject of speech. Setting aside questions of politics and accusations of fake news, in the legal world, we see more and more companies being held to higher standards of accountability in their advertising and promotion practices.  We live in a visual society of instant gratification and demands for new and different stimulus. Innovation and choice drives our commerce. Advertising and promotion has to demand our attention and make us think before we spend. But when you apply the sometimes amorphous "reasonable consumer" standard in consumer fraud and false-advertising litigation, companies are often left to the mercy of ambitious lawyers and the prospect of expensive litigation.  Consumer marketing litigation is all about the human experience, and I am convinced that we are nowhere near the end of consumer class litigation. So, I will continue to intervene to help clients make smart decisions and to defend them when those decisions are challenged.