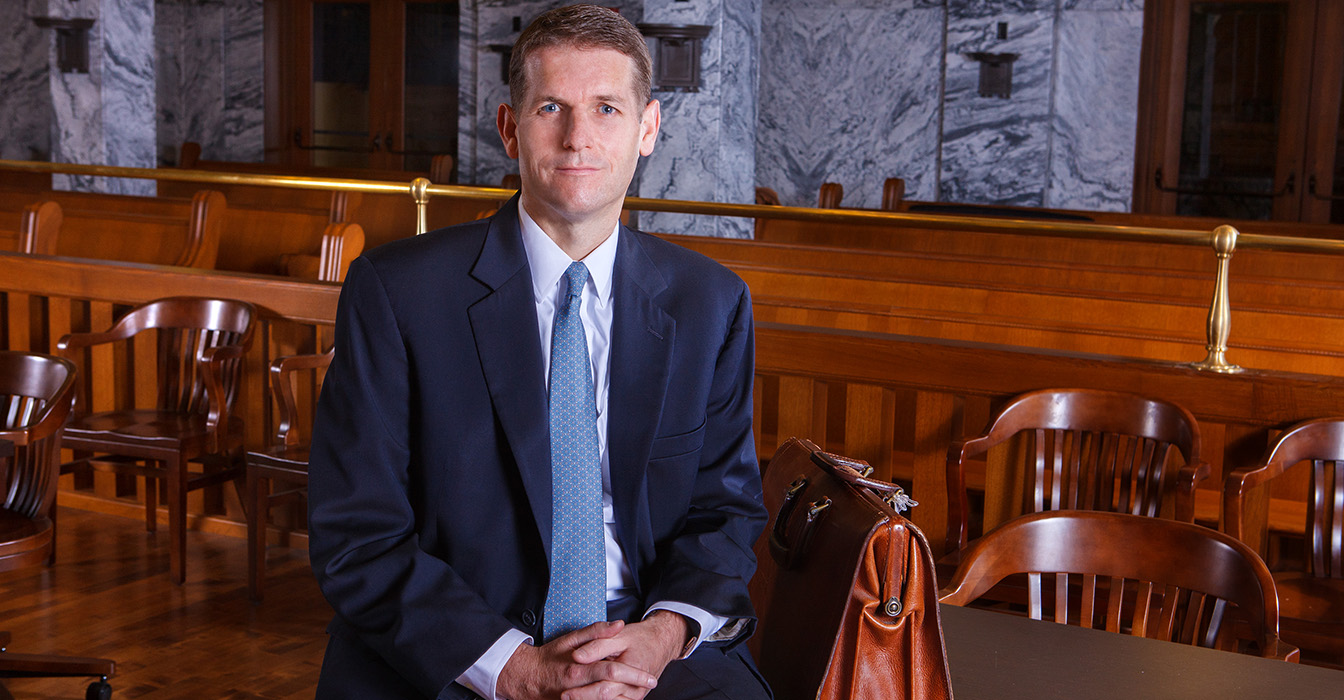 Many lawyers struggle with balancing their personal and professional lives. For Shawn Raymond, the two are inextricably intertwined. It's been that way from the beginning: The bankruptcy of his father and stepmother when he was still in high school inspired Raymond to become a lawyer.
"I knew the personal toll that took on my family," he said. "It was an eye-opening introduction to the law, particularly seeing it from a teenage perspective."
Today, Raymond counts as family not only his wife, Alicia, and their four young sons, but his colleagues at the Houston law firm of Susman Godfrey, where he's a partner. The relationships are so close that partner Neal Manne and his wife were among the people on a limited list of visitors given 24/7 access to see Raymond's youngest son, Louis, four years ago when he was hospitalized for nearly three months after his birth.
"Susman Godfrey has always been a very, very special place to me," Raymond said. "True character reveals itself in times of adversity, uncertainty, or when you're really not sure when the next shoe is going to drop. When those challenges have surfaced for my family, the people of this firm have risen to the occasion time and time again."
The same mindset applies inside the office, not just when Susman Godfrey attorneys are going to bat on behalf of a client, but when they're mentoring younger lawyers. Raymond recalls partners insisting that he take the lead on depositions early in his career (he took his first deposition just one week after he started), then talking with him afterward about what worked and what didn't and how he might handle challenging witnesses and situations the next time around.
Those skills have helped him play key roles in remarkable victories, including a $162-million jury verdict against Chinese pharmaceutical companies for antitrust violations in the Vitamin C market (the case made its way to the U.S. Supreme Court with a 9-0 decision in Raymond's favor); dismissal of a $300-million fraud claim against client KBR; and, at the time, the largest settlement (of $465 million) by a single U.S. whistleblower under the False Claims Act against Novartis and other companies. Currently, he's front and center representing plaintiff class members in the Flint water crisis.
He's also that rare attorney who is as noted for his goodness as for his courtroom prowess. Among many other recognitions, he's been honored with "Shawn Raymond Day" in Houston for his support of the Houston Area Women's Center, the city's largest charity devoted to providing support for survivors of domestic violence and sexual assault.  And somehow he fits in time to lead a non-profit he co-founded in Mississippi while also serving as a school board member for KIPP Texas, a public charter school system serving more than 25,000 students.
The negotiation skills he's learned along the way are vital not only in conference rooms and courtrooms, but in settling the differences that arise in a household of six, including four boys 12 years of age and younger.
Bedtime "is like negotiating a multilateral treaty every night," Raymond said. "I call it the 'slow roll' process, which begins with the 4 year old, who of course thinks he's 12, insisting that his bedtime rules should apply uniformly to his three older brothers."
Lawdragon: Ah, good negotiation position.
Shawn Raymond: So we begin that process with him around 6:30, and then, if we're lucky, by 7:30, he'll still be pleading with you that he's not tired, but you can tell he's exhausted.
And then his patented slow roll continues: "I need another book. I need something to drink. I don't have the right blanket. The light's not on. The light is on. I need another book. You skipped a page, Dad." Once he's down for the count we transition to the older boys who have their own slow-roll tactics. I end up some nights so exhausted from everything else that's going on at work and with the slow roll that I've actually fallen asleep while reading books out loud to the boys in their beds.
LD: How do you do all of it? Do your community work and practice law and make time for your family?
SR: It all ends up being about priorities – and having a supremely well organized, talented, and understanding spouse. I don't golf, I don't fish, I don't do a lot of the recreational things that take a lot of other time.  I work, I spend time with my family, and I strive to stay engaged in the community.  Bottom line: I try to maximize every moment. In everything I do I try to apply a contingency model – focus on achieving the best results by being as surgical, precise, and efficient as possible so I can milk every last moment out of the day. And I need to do that with the 4 "L"s running around the house.
LD: So, Lyle …
SR: Lyndon, Liam and Louis. 'King' Louis was in intensive care for the first 82 days of his life. If you want to talk about the importance of the firm to my family and me … Texas Children's Hospital allowed only four people other than Alicia and me to have 24/7 access to the ICU. Two of our four were people at this firm.  It's one thing to recognize how important the people are that you work with in terms of winning cases, but it's an entirely different level of appreciation and admiration to see those same people being there for us when the life of my son was literally on the line. Talk about loyalty.
LD: What happened with Louis?
SR: We never figured out what caused his breathing problems. He had contraptions hooked up all over him and ended up having exploratory surgery and undergoing MRIs and CAT scans. The doctors couldn't get to the bottom of it, so on about Day 75 they said, "If the situation doesn't improve we're going to have to give him a tracheotomy because we can't allow him to leave here for fear that he will stop breathing at home." Then, in a miraculous way – I like to think it was because of the heart-to-heart talk I had on Day 75 with Louis about what was going to happen – he licked his own breathing programs and was allowed to come home.
LD: That's incredible. And no tracheotomy?
SR: No tracheotomy. We avoided it. We were extremely blessed.
LD: Are you from around Houston? Tell me about what life was like growing up for you.
SR: I'm not. I'm from Golden, Colorado, which is right outside of Denver and home to Coors and the Colorado School of Mines.
My dad was a biophysicist. He studied ways to convert alternative fuels like algae into energy sources.  He did that first in Hawaii and then we moved to Colorado where he took a job with the Department of Energy, which had a solar energy research lab in Golden.  My parents got divorced, my dad remarried, and he and my stepmom decided to get their MBAs and start an oyster farm business in, of all places, Rifle, Colorado.
LD: How'd it go?
SR: Not so good.  They ended up filing for bankruptcy. On Halloween night of 1988, when I was a junior in high school, my dad drove an oyster truck up to school to pick me up from football practice.  He told me matter of factly, "We're done."  And we drove back to Golden.  That led to all sorts of litigation when company investors, among other things, tried to repossess our home.
There's actually a published 10th Circuit case involving our family and homestead rights. My dad was an overly trusting person who was interested in science and loved creating new things.  He assumed others would act honorably.  That may explain why the company was created without any lawyer representing that side of the table in negotiations with the private equity investors. At some point my dad and stepmom recognized they were basically employees of a company that they had originally thought was going to be theirs. That turned out to be a lengthy, not to mention, costly, realization.  It certainly gave me a unique perspective on life as a teenager.
LD: Is that why you wanted to be a lawyer?
SR: It certainly played a role. I experienced the personal toll litigation had on our family.  My dad and stepmom ended up prevailing in the litigation, although in some ways it ended up being just a moral victory because the financial damage had already been done. But that definitely fed my interest in commercial litigation. Although this was a small company, it meant just as much to my dad and stepmom as any of the larger companies do to executives of our corporate clients. I understand how the human aspect of litigation impacts owners, employees, and family members.
LD: Tell me about your path to Susman Godfrey?
SR: After college at George Washington University in Washington, D.C., I did the Teach for America (TFA) program in the Mississippi Delta. From there, I went to the University of Texas for law school. My TFA roommate was Gregg Costa, who now sits on the Fifth Circuit.  He and I continued as roommates at UT for three years.  My 1L contracts professor was Bill Powers, who later became the dean, and then the president of UT.  He had a relationship with Steve Susman.
I remember talking to Bill during office hours in my first year, and saying, "I'm really interested in civil trial work. What do you think?" He responded, "There's only one place for you to go." That's how I ended up hearing about Susman Godfrey, and I was fortunate to do well enough academically to get on the radar screen with the firm. I did a summer clerkship at the firm, and then after graduation I clerked for a U.S. district court judge for a year.  During that time, I had an offer from the firm, but hadn't fully decided what I wanted to do.
So during my judicial clerkship, Neal Manne and his wife, Nancy McGregor, invited Alicia and me to dinner. It was an unforgettable meal. We talked at length about TFA and the Sunflower County Freedom Project, a non-profit I started in Sunflower, Miss., with Gregg and another of our TFA roommates, which was just a few years old. It provided after-school and summer-school enrichment, and leadership programing for kids in the county where we had taught. All programming occurred during the summer but we wanted to have a year-round presence.  We had identified a building that could serve as the home of our charity. Neal listened intently and then announced: "We need to sweeten the pot regarding your offer to come to Susman Godfrey.  I'm going to tell the firm that in order to get you to accept the offer, the firm needs to donate $10,000 so you guys can buy this building in Sunflower, Mississippi."  Sure enough, Neal contacted me a day or two later to say "It's done." We used the money to buy the building, which, 20 years later, continues to house the Freedom Project.  Not your typical law firm recruiting pitch.  But then again, Susman Godfrey is not your typical law firm.
LD: The firm's emphasis on family and the connections between attorneys are something I haven't seen elsewhere.
SR: It's a one-of-a-kind place.  Never in my wildest dreams as a kid going through a bankruptcy, would I ever have imagined having the opportunity and experiences that I've gotten here. I'm extremely grateful for what this firm has offered and taught me. Some of our closest friends are people here at the firm.  We choose to spend much of our limited free time with other Susman Godfrey families.  That speaks volumes about the quality of the people that are at this firm.
One of the things that clinched my wanting to join the firm was its unique culture.  I felt like high school, college, and law school were to a large degree zero-sum situations, in which my success depended in part on other people's failures. Getting into Teach for America was the same thing. And so was making law review, securing a judicial clerkship, and then finding a job. I was exhausted with that process and mindset.  I wanted to practice law at a place where I could see how good a lawyer I could become – while working alongside truly talented colleagues.  Importantly, I wanted to be at a place where I could be genuinely excited for the success of those around me. That's why I came here.
LD: Tell me about your first trial?
SR: My first trial was with Steve Susman.  I think I was still a second-year associate.  About a month before the trial, Steve invited me to his house to discuss our trial strategy.  When we met, he said "let's divide up witnesses evenly between the two of us.  But I want to pick the jury."  I said to myself, "Steve, this is your firm, you don't need my permission to do that." He continued, "If I pick the jury, do you want to give the opening statement?"  My eyes lit up.
LD: He gave you the opening statement as a new associate? Wow.
SR: Right? It was a remarkable experience to be with him, to try that case – just the two of us.
After Steve picked the jury, we took a break for lunch.  I didn't eat anything because my stomach was tied in knots. Meanwhile Steve was eating like it was his last meal and having a great time. We came back to the courtroom and the judge said, "Mr. Susman, please give the plaintiffs' opening statement."  Steve, grinning like a Cheshire cat, rose from his chair and told the judge, "My young associate, Shawn Raymond, is going to give the opening statement."  The judge couldn't believe it.  The other side couldn't believe it.  As I stood up to walk towards the jury box, Steve whispered in my ear, "Go get 'em, tiger."  The 45-minute opening statement went by in what seemed like 45 seconds.  I know Steve took great pleasure in making that opportunity available to me.  He and the firm didn't owe me anything.  But he gave me that chance.  The jury apparently liked it.  The National Law Journal listed the jury's verdict in that case as the 36th largest in the United States that year. Not too shabby.