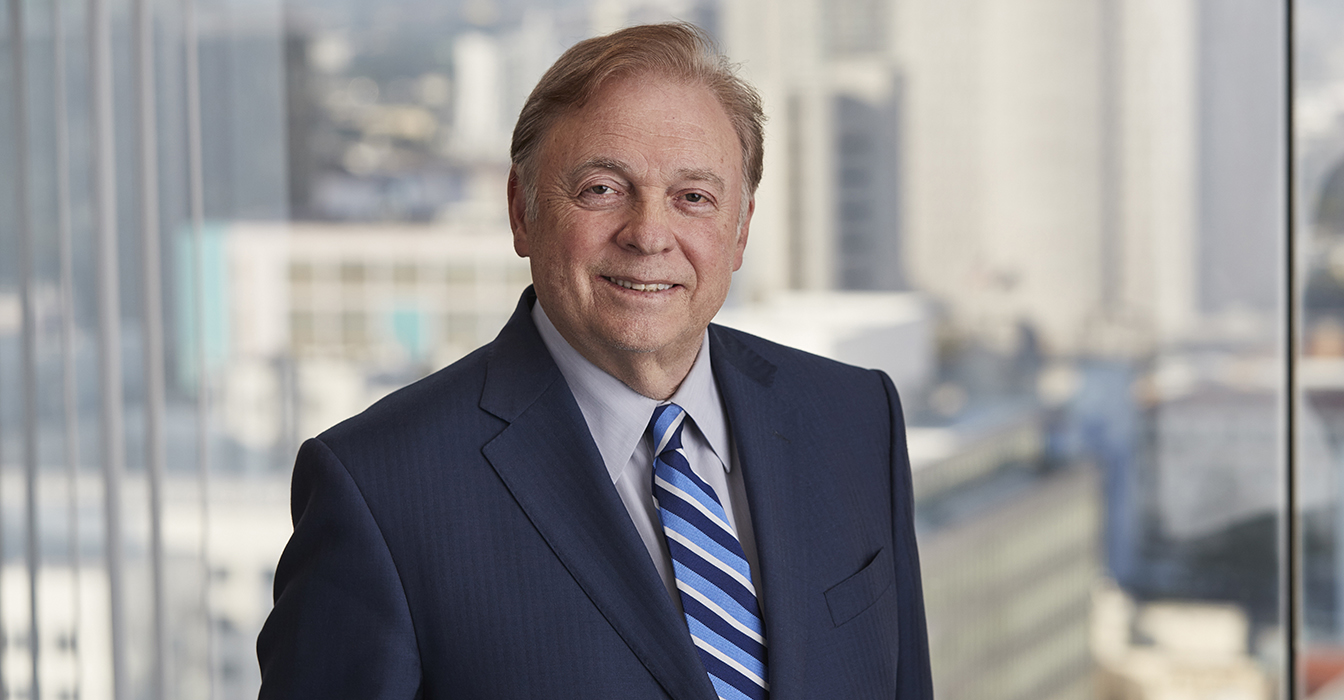 If there is an "Only in America" lawyer, it may well be Stephen N. Zack of Boies Schiller Flexner.
The Detroit-born, Cuba- and Miami-raised lawyer has traveled the world as the first Hispanic-American president of the American Bar Association, at times accompanied by former U.S. Supreme Court Justices Stephen Breyer and Sandra Day O'Connor, and other fellow legal luminaries.
But that's not how it started for Zack, who remembers all too well the night he decided to become a lawyer. He was being detained in Cuba, a 13-year-old boy, alone and incommunicado, after his family was jailed as they tried to leave. He was terrified, wondered what might happen to him, and whether he would ever see his family again.
It is little surprise that he became a lawyer after that harrowing experience. That he went on to play a seminal role in Bush v. Gore; that he represented a constellation of Governors, Senators and Florida powerhouse politicians and institutions, including Governor Bob Graham and the Florida Senate, as well as Fortune 500 companies, such as National Geographic, Chevron and Altria; that he created a powerful program to assist lawyers who fled Cuba and made their way to Florida; and that he promoted diversity and inclusiveness in the law – among many, many other accomplishments – is a testament to the remarkable energy, savvy, smarts and skill of this Lawdragon Hall of Fame member.
Lawdragon: Steve, I know you traveled the world for the ABA to spread the word about our legal system. Do you have particular memories that reflect the world view of the American justice system and can you share what you've learned along the way?
Stephen N. Zack: I traveled many miles and to 22 countries. I remember giving a speech to a graduating law school class of 1,000 students in China right after the Bush v. Gore decision. The students asked me three questions at the end: What did I think of No Child Left Behind? Is American justice as prejudiced as reflected in the movie "Crash"? And the third one, which was supposed to be a killer question. I remember vividly the young man who asked it. He stood up, and said, "Mr. Zack, what did you learn by losing Bush v. Gore?" You might think this was a difficult question – but for some reason it wasn't for me. And I answered that I had learned as an American that when we have a problem, we turn to our lawyers, not our generals. And there was a loud "oooh…" from the crowd. At that point, the political officer who had been following me around campus got up and left.
What we do in America is watched by the rest of the world. We often fail to appreciate how our legal system and our justice system serve as models to all.
LD: Any other themes you've seen?
SNZ: Another common theme is the importance of women in the law, and that's not just in the United States, where over 50 percent of law students are women. When I visited Vietnam, where they had just formed an independent bar like the American Bar Association, I met with them, and was disappointed that the council consisted of mostly older men, and yet they relied on women lawyers to get the work done. Increasing the diversity in law, including in Big Law, is one of the reasons I am proud to head Boies Schiller Flexner's diversity initiatives.
I got a chance to chat with people around the world about the practice of law and the importance of an independent judiciary. Independent courts are not common in most countries, and it may be the single most defining aspect of our democracy. Our judiciary is threatened by today's lawmakers who don't view the judiciary as a co-equal branch of government. In some states, disrespect for the judicial system is obvious when the judicial branch always receives 2 percent or less of the budget. No co-equal branch is a co-equal branch absent funding.
LD: You've seen and been a part of a lot of changes.
SNZ: I'm not that old, but when I was a student at the University of Florida, we went down to Cedar Key and they had "white only" and "black only" water fountains. In Gainesville, I actually had a cross burned in front of my room because I was Jewish. Someone even asked me, in all seriousness, if Jews had horns – he had never before met a Jewish person.
I became the first Jewish President of the Fraternity Council, which helped overcome some misconceptions and prejudices. I saw and helped contribute to a lot of changes.
LD: Can you take me back to your aspirations when you graduated from law school? What was the plan?
SNZ: My strong belief is that man plans and God laughs. I had planned to practice law, and I was going to accept a job at a law firm. The day I was supposed to meet with the firm partners was the day of the homecoming game at UF. I broke my ankle, so the meeting was cancelled. Life has so many twists and turns. Instead, I went to the Blue Key Banquet on crutches, where, as Blue Key past President, I was seated with Senator Claude Pepper, which ultimately led to his offer to me to serve as his legislative aide. I had never planned to do that; I wanted to practice law. But I accepted his offer and ran his congressional campaign in 1972.
After he won, I told him I really loved him, but still wanted to practice law. That night, he went to a Miami Dolphins football game and sat next to Bill Frates in Joe Robbie's box. When their conversation turned to available young lawyers, Senator Pepper told him about me, which resulted in an early morning phone call from Frates asking that I come in for an interview that same day. That was the beginning of 20 years with the Frates, Fay & Floyd firm, where eventually I became a named partner.
I later became general counsel for Governor Bob Graham and then the first Hispanic and youngest President of the Florida Bar. My successor, Jim Fox Miller, introduced me to his best friend, David Boies.  The two of them attended my investiture, and we worked on a few minor cases together.
LD: And then came the 2000 election contest between Al Gore and George Bush.
SNZ: The night of the Bush v. Gore election, I was watching TV and received a call at about 8 p.m. from Vice President Gore, who I knew. He said, "Steve, we're missing a ballot box in Broward County." Well, I knew the sheriff of Broward County, so I called him, they found the ballot box, and I thought that was it. Bush was declared the winner, so I went to sleep around 11:30 p.m.
And then I got another call from the Vice President. He said, "Steve, it looks like we're going to need some lawyers in Florida." I replied, "I'd love to help you, Mr. Vice President, so I'll find some lawyers for you, but I, personally, am too busy. I'm in the middle of preparing for several trials." Can you believe I said that? No one really understood what was about to happen.
The first Bush v. Gore hearing was in front of Judge Don Middlebrooks here in the Southern District. He and I were friends at UF. That morning, I told my wife I'm just going to walk down to the courthouse to see what's going on. As it turned out, I got the last seat in the courtroom, next to my old friend, Kendall Coffey, who was representing the Democratic Party in Florida. He told me they lost the day before in the canvassing committee. "We would like you to re-argue it for us," he said. What I didn't know was that the Democratic Party, nationally, had hired David Boies to be its attorney. So I said to Kendall, "I'm really too busy. I just can't do it." And he replied, "It will only take 15 minutes of your time." So I said OK. Well, that 15 minutes turned into three months.
LD: What happened next?
SNZ: I went to the canvassing committee – which consists of usually four people wearing tennis shoes, working in a closet. Incredibly, this time there were 150 TV cameras, live from around the world. I didn't realize that David was watching in Tallahassee. I argued, they reversed their decision and agreed to a recount.
As I walked out of the courthouse, David called my cellphone and said he was very happy I got them to reverse, and wanted me to come to Tallahassee right away and try the case with him. I would do anything for David Boies – carry his briefcase if need be, so I didn't even ask him what he wanted me to do. I ended up questioning the expert witnesses, including the voting-rights experts.
Remember, a big issue in the case was that votes weren't counted because the paper – the chads – weren't completely pushed through. I took the deposition of the man who designed the Votomatic and asked him if he had applied for a patent on anything else. He said, "Yes, a stylus, so you won't have chads." I didn't think much of it, but I called a lawyer in my office and asked whether there were any other patents pending.
I have never been more afraid of doing a person's cross examination. This guy looked like Moses and had quite an elegant demeanor. And I had nada, nothing. I was later told there were ten million people around the world watching my cross examination on television. One of the reasons was because it was during the NFL playoffs and people were switching back and forth from the trial to the playoffs.
As I sat down after questioning a witness, I found a white manila file on the table next to me. I will never know how it got into the sealed courtroom. Security was intense – we had to be taken every day by police into the courtroom because of death threats. But I opened this file and inside was an application for a new Votomatic machine. I was walking to the podium as I read it. The first five pages were Greek to me, but on the fifth page, about a third of the way down, there was a line that said, "In a close vote, you need a hand recount, so that's why I'm applying for this new patent."
And that was supposed to be the end of the case. You know the rest of the story and what the Supreme Court did.
LD: Right, you won in the Florida Supreme Court but the U.S. Supreme Court issued a decision ending the recount, resulting in George Bush being elected. And that's how you came to join Boies Schiller Flexner?
SNZ: David and I decided that we really liked working together. He had about 130 lawyers in his firm and I had 30 in mine. He wanted a bigger presence in South Florida. We have just started our 17th year together. It's been wonderful.
LD: Can we talk a bit more about Cuba?
SNZ: Yes, I was very involved with the opening of relations in Cuba under President Obama and I was in Cuba for the opening of the Embassy. Later, President Obama named me Alternate U.S. Representative to the 68th General Assembly of the United Nations. I've been blessed in so many different ways.
My mother was born in Cuba, but you have to go back another generation to really understand. It is a story as current as today's immigration issues. My grandfather came from a family of 22 children born in the Ukraine. The first 11 ended up in Detroit. In those days, you had no obligation to bring your entire family out, but you had an obligation to bring the next one in line. However, the United States said no more Jews. My grandfather was the 12th and they wouldn't let him in the United States. He couldn't get here, so he ended up in Cuba.
I like to say he got on the wrong boat, which started a long Zack tradition of getting on the wrong boat. Because he didn't speak Spanish or English, he thought he was in Detroit. And by the time he knew he wasn't, he already had a pushcart and was selling ice cream from it. Well, he was a very enterprising guy who noticed that when people ate ice cream it would melt and get on their ties. So, he started selling ties with the ice creams. From there, he opened a cloth store where they sold materials. From there, he bought factories and ended up with three leather factories and two shoe factories.
He was very successful and helped build a synagogue in Cuba, The Patronato. When I went there the last time, I sat in the seat where I last sat with my grandfather when I was 13-years old.
LD: Were you born in Cuba?
SNZ: No, I'm an anchor baby. My father was a very wise person and insisted that my mother come to the United States for the birth of each child. He told me that my passport must read I was American, which he was, but my mother was naturalized. He said the passport tells where you were born, not just your citizenship. He didn't want it to read Havana, Cuba, but rather Detroit, Michigan. Then, at two-months old, I started going to Cuba.
We lived in an area called Miramar. When Castro came in in 1959, he promised everybody shoes. And our family made the shoes, so we knew we were in a lot of trouble. The day came when we received a call from one of the factories saying the military was there. The government called it an "intervención" because that way they didn't have to pay you anything since eventually you were supposed to get it back.
LD: You didn't stay and try to do something about the "intervención"?
SNZ: When they intervene, they tell you you're an enemy of the state and put you in jail. So we drove straight to the airport with the clothes on our backs.
Andy Garcia had a movie, "The Lost City," which very accurately portrayed Cuba. They had something called La Pescarilla, a big, giant glass room with metal chairs in the middle. As you walked in, they made you take off any wedding ring or watch, and they called you a cockroach because you were leaving the country. My father was staying behind to try and make sure everything was OK. My mother, brother, sister and I went into what was called "The Fish Bowl", where everyone was sitting on metal chairs and crying.
The military called out our names and asked us to go with them. Their KGB is called the G2. The main office is in Old Havana but they had an office at the José Martí Airport. We were held incommunicado and put in separate rooms.
LD: And what happened?
SNZ: The next morning they reunited us and took us to the main police station. My father was there with a Swiss Ambassador, since the U.S. Ambassador already left. They put us under house arrest for a couple of weeks. They then let us leave the country in July 1961 with other Cuban refugees. We left everything behind. In Cuba, we had an unbelievable life, and now, we were sleeping on mattresses on the floor. We first thought we would someday go back to Cuba and this would only be temporary. We never even unpacked until after the Bay of Pigs.
LD: What an incredible life, and incredible story. And you ended up helping lawyers who also left Cuba and other countries and were unable to practice law in Florida?
SNZ: I helped set up a program 42 years ago at the University of Florida for Cuban lawyers when they came to the United States. They were great Cuban lawyers working as waiters and gardeners. The program allowed them to fly to the University of Florida on the weekends and learn how to pass the bar. Most returned to Miami to practice and they contributed in making Miami a great international city.
My story started 60 years ago and is as recent as today's headlines. In 1960, President Kennedy wrote a book "A Nation of Immigrants" which should be read today. It is no accident that the greatest country in the world is also the most diverse. I am so fortunate and grateful to be a part of this story and this nation.