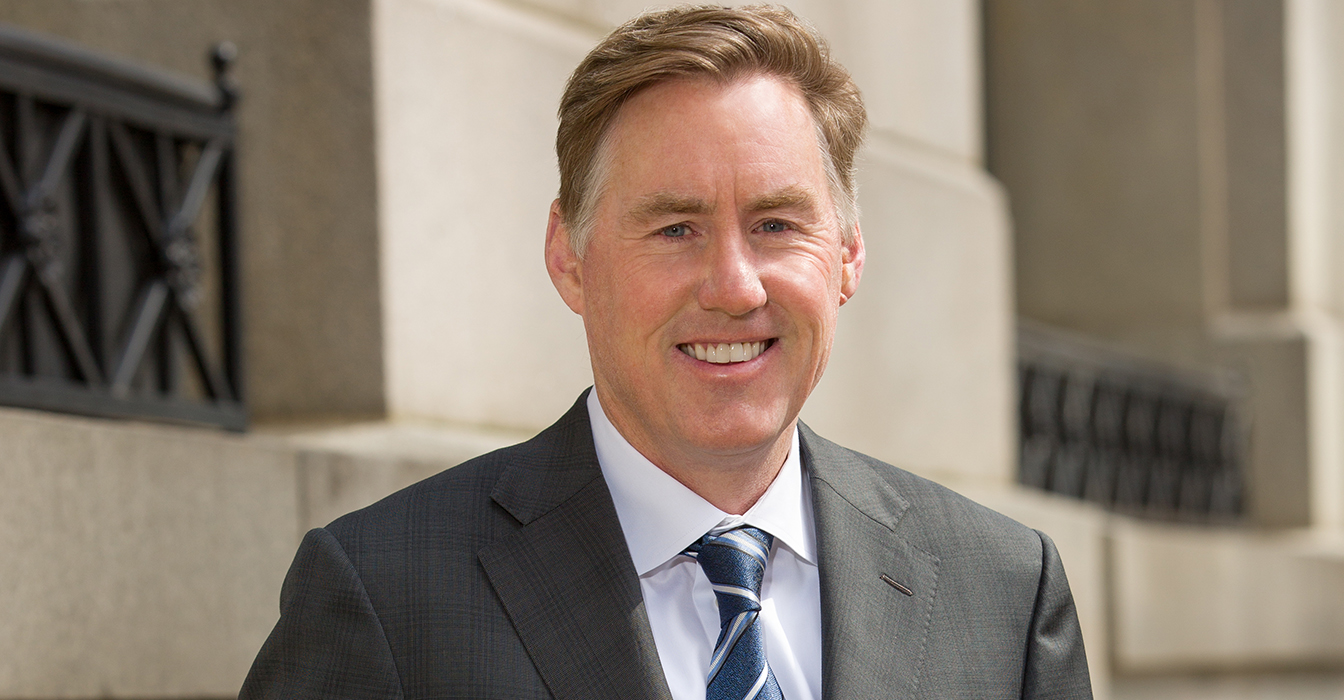 Like many trial lawyers at the top of their field, Tim Cavanagh gained courtroom experience early in his career working for the government. Once in private practice, he learned quickly that he wanted to put his trial skills to use for people, not corporations, and he did so at Chicago mainstay Corboy & Demetrio before launching his own highly successful personal injury practice. Among his high-profile cases, Cavanagh represented the family of Andrew Cazares, who along with friend Fausto Manzera was killed by a drunk-driving off-duty Chicago police officer in 2009. Lawyers for the families had to battle with the Chicago Police Department's "code of silence" to reach a $20-million settlement, which was approved by the City Council last year.
The case is part of a long record of multimillion-dollar verdicts and settlements for Cavanagh Law Group, a name that reflects a family operation. Cavanagh and his wife Stacey Feeley Cavanagh are law partners and parents of two sets of triplets. Both received their law degrees from IIT Chicago-Kent College of Law.
Lawdragon: Please talk about the case you handled for the family of Andrew Cazares. For those of us outside Chicago, what is the "code of silence" and what was its role within the case against the city?
Tim Cavanagh: We were on trial in Federal Court in Chicago for two weeks and settled during closing arguments, which is a bit unusual. We worked on the case for nine years.  I had the pleasure of working with my old boss Kevin Conway from Cooney & Conway and a new partner of mine, Mike Sorich. The months leading up to the trial were very intense, and the trial was even more intense. To resolve a case that late in the game is gratifying in one sense because we secured a $20 million settlement. But it was also, I suppose, a little bit anticlimactic. Ultimately, our job is to get the best results for the client. They offered that record-breaking sum, and we felt compelled to accept it.
The Chicago Police Department has had a problem for years and years with the "code of silence," which is an unwritten agreement among police officers who are trying to protect their own. You won't find any written agreement, where CPD or the city of Chicago says, "Hey, if you find a fellow police officer doing something wrong, let him go." It's called the code of silence for a reason. It's meant to be secret, but it's evidenced in a lot of different ways.
When a police officer does something wrong in front of his or her partner, the partner won't report the incident. It could be something minor.  But in this case, it was an alcoholic police officer who had driven drunk on many occasions in the past. The Chicago Police Department knew Officer Joseph Frugoli was an alcoholic. Police caught him driving drunk multiple times. And instead of treating him like any other citizen — and arresting him and throwing him in jail and letting the criminal justice system take its course — he was let go. Being arrested would have hopefully let that officer know he's got a problem and it's time to deal with it.
LD: What were some of the incidents you discovered that alerted you it was a pattern with Officer Frugoli?
TC: We found out in discovery that Frugoli once hit a marked police squad car when he was coming back from a casino. He ran a red light, and instead of performing tests for alcohol use, police drove him home. There were other tell-tale signs, but the key evidence was never produced to us and did not come out until trial.  When Frugoli was a rookie cop, he pulled up to a bar because his brother had been in a fight there the day before. Frugoli had been drinking and beat up somebody with a pool stick. The owner chased him out and called the police. Frugoli took off in a car right in front of a Chicago police sergeant who was responding to the call. Ultimately, Frugoli stopped a couple hundred feet away and told the sergeant he was CPD. He said, "Nobody messes with the Frugoli's."  It was meant to send a message: The rules didn't apply to him.
Even though the police knew he'd been drinking, they allowed Frugoli to drive himself to the police station. When reports were typed up, police scrubbed any mention of him being drunk. Shockingly, all the charges against him went away.  So, from his first year as a police officer, Frugoli found out really quickly what the code of silence was — that if he got into a bar fight and beat somebody up, and fled in a car driving drunk, he was going to be let go.
Actually, documents from that incident were hidden from us in this case. We didn't find out about them until the middle of trial, years after we should've learned about them. When we ultimately discovered that this incident had occurred, the city had to cough up those documents. It blew the case wide open.
LD: Is that what pushed the case towards a settlement?
TC: The defense made a token settlement offer at the beginning of trial. Once we found out they had hidden evidence — and those documents were produced — they knew they had a huge problem. That's when they started making serious settlement offers. It didn't resolve until about a week later during a break in my closing argument.
When you catch a defendant hiding evidence and the jury knows about it, it's a big deal to the jury. And let me make clear that I do not believe the outside counsel trying the case for the City was involved.  It was a big deal to us, and it was a big deal to the judge.
LD: What has happened since then, in terms of when the two families will receive settlement money and any reforms or other fallout for the police or the city? What do you expect to be the lasting effects of this case?
TC: The family received the settlement proceeds in 2018. We got the justice we wanted, but we're certainly not happy that the City of Chicago didn't produce documents. We filed a motion for sanctions against the city for failing to produce those documents. U.S. District Judge Virginia Kendall, who presided over the case, actually asked the city to respond to her own motion on why these documents were never produced during discovery.
LD: What about the code of silence?
TC: I'd like to think that the code of silence has been brought to the public's attention in a dramatic way. But I don't think for a second that it's going to go away.
Outgoing Mayor Rahm Emanuel has publicly for the first time acknowledged that a code of silence problem exists in the Chicago Police Department, and we played for the jury a video of his speech to the Chicago City Council. The first step is recognizing there's a problem and having transparency. But it's going to take leadership from the Chicago Police Department. When officers do things right, they should be commended for it. When they commit criminal acts, they should be punished for it. Their fellow officers shouldn't be covering up for them. The stakes are too high.
At what point do you still cover for a police officer? Let's say your partner parks illegally. Do I expect that they're going to get tickets for that? No. But when police drive drunk, they should be arrested, and they should be criminally charged. They shouldn't be let go because they are police officers.  Too many people's lives have been destroyed by the code of silence. The families of Andrew Cazares and Fausto Manzera are good examples of that.
LD: What have been some of your other recent verdicts and settlements for clients?
TC: We just settled a $5 million product liability case against the manufacturer of an industrial machine. The blades on the machine cut off four fingers of our client's non-dominant hand when a co-employee engaged the machine. The machine was recently designed and manufactured, and there's state-of-the-art technology out there that would have prevented the machine from engaging.
We also recently obtained a $7.5 million settlement against Metra for a case in which a woman suffered a traumatic brain injury and obtained a $5.9 million settlement in a road construction wrongful death case.
LD: I'd like to discuss your earlier career. Why did you join the Illinois Attorney General's Office after law school?
TC: For a simple reason: to get trial experience. I was 25 when I got out of law school. I didn't want to work for a firm where I was going to be in a warehouse looking at documents. I wanted to get in the courtroom. Several weeks after becoming an assistant attorney general, I was on a three-week trial in East St. Louis, Illinois. I spent about two and a half years with the attorney general's office before becoming a personal injury attorney.
LD: What about the job led you to want to go into plaintiff-side litigation? Was this something you had also thought about in law school?
TC: I clerked at a personal injury firm, Cooney & Conway, in Chicago for several years with some amazing lawyers. Fast forward to the Cazares case over thirty years later.  Kevin Conway from Cooney & Conway represented Manzera in the Cazares v. City of Chicago case, which was very rewarding.  I was also fortunate to get a job as a lawyer at Corboy & Demetrio, another personal injury firm. I think, ultimately, I like to represent people. There was a stint where I represented some banks and corporations, and it wasn't gratifying. I guess it's just not part of my DNA. I like to represent people in cases that really matter to them.
LD: After you had been in private practice, why did you decide to start your own firm instead of staying with an established firm?
TC: A variety of reasons. I think I'm sort of entrepreneurial in nature, for one. But more important than that, I wanted to be in charge of my own legal destiny, so to speak. I learned a lot in the firms where I previously worked. I had a feeling in my gut that I was going to be able to attract significant cases and worthy clients. I wanted to do it on my own and build a team.
LD: What makes Cavanagh Law Group special? In addition to courtroom talent, what has been key to maintaining such a consistent level of success?
TC: Very simple: It's our team. We have a phenomenal group of lawyers and staff that come into the office every day ready to engage and fight and be committed.
LD: I know all clients are important, but is there a case from your career that is particularly memorable due to the challenges, the results or other factors?
TC: Two cases, I think.  It would probably have to be the Cazares case and a railroad crash case Velardi v. Canadian National Railroad. The Cazares case was unique because we had to prove a code of silence – which was meant to be a secret.  This isn't a case where you've got a truck crash, for example, and there's a finite point of negligence captured on video tape. The misconduct took place over many years and was meant to be hidden.  That conduct ultimately led to this tragic crash on the Dan Ryan Expressway, where these two boys were killed. One of the things that sticks out is just how dramatic it was. Frugoli was trying to help out the city when he uttered that he had been involved in this incident and that no one knew about it. It led to the late production of all these documents. And it blew the case wide open.
The Velarde case resulted in a $55 million verdict that was affirmed by the Illinois Appellate Court.  Our clients sustained brain injuries in an SUV/train crash.  I still remain in touch with the family after all these years.
LD: Can you talk about how you met your wife and what it's like to practice law together?
TC: We met at Corboy & Demetrio in 1993.  It has been wonderful personally and professionally!  In 2014 we tried a wrongful death case together and obtained a $6.65 million verdict.  We are very busy personally as we have six children; two sets of triplets. The oldest boys will be 13 in December. Our second set of triplets, two girls and a boy, are 10 right now. It's been a lot of fun. That's kind of our unique story, I guess. Two sets of triplets. We don't do anything easy.
LD: What do you like to do to get away from the office?
TC: Well, I'm really involved in going to my kids' basketball games these days. I love watching them play basketball. All of them enjoy it. I like to golf, but I don't get to as often as I'd like. Traveling with the kids is also a big one. We took them to Europe last summer for the first time: Italy and Ireland. My favorite thing is just being around the kids.
LD: Are there extra-practice or charitable groups or activities that you or the firm are involved with that you wish to discuss?
TC: I'm fortunate to be a director of the WGA Evans Scholars Foundation, which has over 900 kids/caddies on full scholarships in colleges around the country. I'm on the Ambassadors Board for Mercy Home for Boys & Girls on the Near West Side of Chicago. I'm on the board of the Illinois Trial Lawyers Association. And I'm going to be on the board of my alma mater, John Carroll University.