Lawdragon's 100 Leading Legal Consultants and Strategists for 2016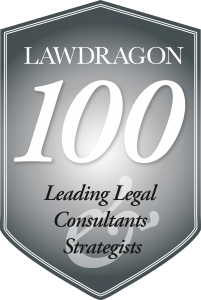 Rare are those who are called upon by lawyers for their expertise. It's almost always the other way around.
So we waited a good long while – eight years to be precise – to reprise our guide to those valued advisors whom lawyers call upon for their niche expertise. When we last highlighted those consultants whom lawyers most valued for their guidance, we found recruiters, marketing and management consultants and technology gurus aplenty in our guide that still stands as the leading resource for those lawyers trust most.
A lot has happened since then. So in a bow to the numerous lawyers who depend on Lawdragon to highlight the best in the business, we asked thousands of lawyers and consultants who they most turn to now.
Not surprisingly, third-party litigation funders top this year's survey. They're led by the Gerchen Keller juggernaut, which has blown past its international competitors to become the world's largest funder, with platinum clients and matters to boot. They are joined by the career strategists who help firms mine lawyer gold, the bankers who keep them in the black, some visionaries rethinking how legal services are delivered, and a new crop of diversity consultants and others with an eye solidly on the legal future.
| | | | |
| --- | --- | --- | --- |
| Name | Organization | Location | Contribution |
| Gerald Abila | Barefoot Law | Kampala, Uganda | Legal Services Delivery |
| Mike Androvett | Androvett Media and Marketing | Dallas | Marketing |
| Scott Atlas | Atlas Counsel Search | Houston | Professional Recruiters |
| Spencer Baretz | Baretz Brunelle | New York | Communication |
| Mark Beese | Leadership for Lawyers | Evergreen, Colo. | Leadership Skills |
| Burkey Belser | Greenfield Belser | Washington, D.C. | Communication |
| Christopher Bogart | Burford | New York | Litigation Funding |
| Anne Bothwell | Bothwell Marketing | Sonoma, Calif. | Marketing |
| Ward Bower | Altman Weil | Newtown Square, Pa. | Management |
| Amanda Brady | Major Lindsey & Africa | New York | Professional Recruiters |
| Mark Britton | Avvo | Seattle | Legal Services Delivery |
| Liam Brown | elevate | Los Angeles | Technology |
| Cari Brunelle | Baretz Brunelle | New York | Communication |
| Jeff Carr | Valorem Law Group | Chicago | Legal Services Delivery |
| Linda Bray Chanow | Center for Women in Law | Austin | Diversity |
| Allison Chock | Bentham | Los Angeles | Litigation Funding |
| Stephen Cirami | Garden City Group | Lake Success, NY | Legal Administration Services |
| Tom Clay | Altman Weil | Newtown Square, Pa. | Management |
| Timothy Corcoran | Corcoran Consulting | Lawrenceville, N.J. | Management |
| Stephanie Corey | UpLevelOps | Redwood City, Calif. | In-house legal services |
| Susan Crawford | Harvard | Cambridge | Open Law – technology |
| Michelle Crosby | WeVorce | Boise, Idaho | Legal Services Delivery |
| Deborah Dempster | RedLaw | New York | Professional Recruiters |
| Jamie Diaferia | Infinite Global | New York | Communication |
| Dan DiPietro | Citi Private Bank Law Firm Group | New York | Finance |
| Janet Downie | Johnson/Downie | Houston | Professional Recruiters |
| Matt Feuer | McClure Feuer | San Francisco | Professional Recruiters |
| Ross Fishman | Fishman Marketing | Highland Park, Ill. | Marketing |
| Ron Friedmann | Fireman & Company | Washington, D.C. | Management |
| Suhrid Gajendragadkar | McKinsey | Washington, D.C. | Management |
| Ray Gallo | Leverage | San Rafael, Calif. | Technology |
| Adam Gerchen | Gerchen Keller | Chicago | Litigation Funding |
| Ann Lee Gibson | Ann Lee Gibson Consulting | West Plains, Mo. | Professional Recruiters |
| Charlie Gollow | Bentham | Perth, Australia | Litigation Funding |
| Donna Greenfield | Greenfield Belser | Washington, D.C. | Communication |
| Jeffrey Grossman | Wells Fargo Private Bank | Charlotte, N.C. | Finance |
| Amy Hambleton | RedLaw | London | Professional Recruiters |
| Mark Harris | Axiom | San Francisco | Legal Services Delivery |
| Jacob Heller | Casetext | San Francisco | Open Law – Technology |
| Vivian Hood | Jaffe | Jacksonville, Fla. | Crisis Communication & Marketing |
| Kay Hoppe | Credentia | Chicago | Professional Recruiters |
| Marcia Horowitz | Rubenstein | New York | Crisis Communication & Marketing |
| Tim Hwang | FiscalNote | Washington, D.C. | Technology |
| Terry Isner | Jaffe | Rehoboth Beach, Del. | Crisis Communication & Marketing |
| Clint Johnson | Johnson/Downie | Houston | Professional Recruiters |
| Sharon Jones | Jones Diversity | Chicago | Diversity |
| Sanjay Kamlani | Matterhorn Transactions | Miami | Technology |
| Jim Kearney | Lake Whillans | New York | Litigation Funding |
| Ashley Keller | Gerchen Keller | Chicago | Litigation Funding |
| Dan Lear | Avvo | Seattle | Legal Services Delivery |
| Travis Lenkner | Gerchen Keller | Chicago | Litigation Funding |
| Richard Levick | Levick | Washington, D.C. | Communication |
| Daniel Lewis | Ravel Law | Nicasio, Calif. | Open Law – Technology |
| Jon Lindsey | Major Lindsey & Africa | New York | Professional Recruiters |
| Sabina Lippman | Lippman Jungers | Los Angeles | Professional Recruiters |
| Jeffrey Lowe | Major Lindsey & Africa | Washington, D.C. | Professional Recruiters |
| Bruce MacEwen | Adam Smith | New York | Management |
| Sharon Mahn | Mahn Consulting | New York | Professional Recruiters |
| Vivek Maru | Namati | Washington, D.C. | Legal Services Delivery |
| Sari McClure | McClure Feuer | San Francisco | Professional Recruiters |
| Bobbie McMorrow | McMorrow Consulting | Summerland, Calif. | Professional Recruiters |
| Deborah McMurray | Content Pilot | Dallas | Marketing & Communication |
| Lynn Mestel | Mestel & Company | New York | Professional Recruiters |
| Jonathan Molot | Burford | New York | Litigation Funding |
| Kathy O'Brien | Jaffe | New York | Crisis Communication & Marketing |
| Mary O'Carroll | Google | Mountain View, Calif. | Legal Operations – Technology |
| Scott Parks | Androvett Media and Marketing | Dallas | Marketing |
| Lloyd Pearson | 393 Communications | Brighton, UK | Media – Directory Maven |
| Marla Persky | DirectWomen | Philadelphia | Diversity |
| Nora Plesent | New Girls Network/Lexolution | Los Angeles | Diversity |
| Pat Rafferty | Androvett Media and Marketing | Dallas | Marketing |
| Nik Reed | Ravel Law | Nicasio, Calif. | Open Law – Technology |
| John Remsen | The Remsen Group | Atlanta | Management |
| Deborah Rhode | Stanford | Stanford | Diversity |
| Larry Richard | LawyerBrain | Wayne, Pa. | Management |
| Miriam Rivera | Ulu Ventures | Redwood City, Calif. | Legal Operations – Technology |
| Jane Sullivan Roberts | Major Lindsey & Africa | Washington, D.C. | Professional Recruiters |
| Mark Rosen | Mark Bruce International | New York | Professional Recruiters |
| Tanina Rostain | Georgetown | Washington, D.C. | Open Law – Technology |
| Norm Rubenstein | Zeughauser Group | Washington, D.C. | Management |
| Gretta Rusanow | Citi Private Bank Law Firm Group | New York | Finance |
| Kate Johnston Ryan | Diversity Lab | Boulder | Diversity |
| Sally Schmidt | Schmidt Marketing | Edina, Minn. | Marketing |
| Dawn Schneider | Schneider Group Media | New York | Media & Communication |
| Dov Seidman | LRN | New York | Ethics & Governance |
| Elonide Semmes | Right Hat | Chicago | Branding & Marketing |
| Caren Ulrich Stacy | Diversity Lab | Boulder | Diversity |
| Ralph Sutton | Bentham | New York | Litigation Funding |
| John Sweeney | LogicForce | Nashville | Legal Entrepreneur – Technology |
| Burton Taylor | Proventus | Mission, Kan. | Marketing & Communication |
| Mehrnaz Vahid | Citi Private Bank Law Firm Group | New York | Finance |
| Keith Wewe | Content Pilot | Dallas | Marketing & Communication |
| Tony Williams | Jomati Consultants | London, UK | Management |
| Paul Williams | Major Lindsey & Africa | Chicago | Professional Recruiters |
| Sandra Yamate | Institute for Inclusion in the Legal Profession | Chicago | Diversity |
| Mary K. Young | Zeughauser Group | Cabin John, Md. | Management |
| Peter Zeughauser | Zeughauser Group | Newport Beach, Calif. | Management |
| Kent Zimmerman | Zeughauser Group | Chicago | Management |
| Jonathan Zitrain | Harvard | Cambridge | Open Law – Technology |
| V. David Zvenyach | 18F | Washington, D.C. | Open Law – Technology |