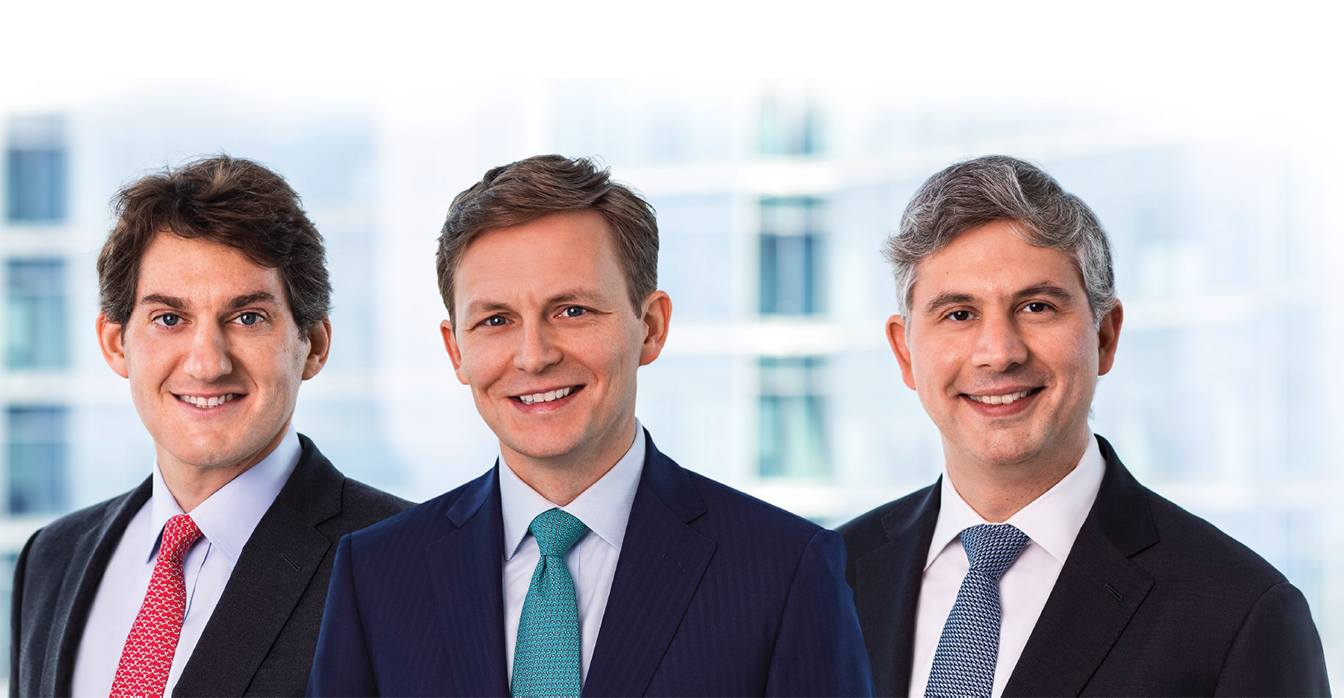 Adam Gerchen (left), Travis Lenkner, Ashley Keller and other litigation stars from the firm discuss the magic behind Plaintiffs' Law 2.0: Excellence, Entrepreneurship and Innovation.
For the most promising business startups, creativity, innovation and experimentation are critical elements of success.
But what about success in law? It seems counterintuitive to associate a startup mentality with a profession that relies on staunchly traditional models of practice and function. But this is exactly the sort of unconventional thinking that has led to the rapid success of Keller Lenkner. 
Since its launch in early 2018, Keller Lenkner has grown at a lightning pace. Today, the firm has more than three dozen attorneys and 60 professional staff. Its lawyers hail from AmLaw25 firms, elite trial boutiques and federal appellate and district-court clerkships. And they use their legal acumen to craft groundbreaking complaints against opioid manufacturers, 3M, Facebook, DoorDash and Google – from securities class actions to product liability MDLs to entirely new practice areas.
Lawdragon sat down for a roundtable with the Keller Lenkner team to understand the strategic, growth-oriented mindset behind their mission and culture – a mindset that has allowed the firm to earn the respect of the nation's elite judges and top-gun plaintiff lawyers, and to build a high-performing business infrastructure to provide their clients with unparalleled service.
Lawdragon: Many are marveling at how you did this so fast and the strategy you had in mind at the outset. What were the most important elements of your strategy for establishing a top plaintiff law firm?
Travis Lenkner (Managing Partner & Co-Founder): We're building something that hasn't really existed on the plaintiffs' side. And to the extent it has, not at this size. First and foremost, we are laser-focused on building the best team of plaintiffs' lawyers in the country, period. That has been the cornerstone of our growth and our philosophy.
Ashley Keller (Partner & Co-Founder): We have a culture of excellence in everything we touch, from the people we hire to excellence in client advocacy. It's foundational for us. I think we're increasingly known as a firm that consistently produces the quality of work that rivals any large defense firm in the country.
Adam Gerchen (CEO & Co-Founder): It's a complete mindset, really. It's merging really smart, talented people with an openness to extreme change. That's why a lot of firms haven't been able to achieve it at the levels we have, because you need that rounded dynamic to people's skillsets, outlooks on the world, appetite to learn new things. You have to be entrepreneurial, nimble, and roll with what is a constantly evolving landscape, internally and externally.
LD: Can you comment more on the firm's entrepreneurial approach?
Warren Postman (Partner): An entrepreneurial spirit permeates every level of our firm. And we strive for innovation at every turn, whether innovation in the law or in our business strategy. It's the way we're all wired. We enjoy the specific work of trying to come up with a creative, new strategy, a new tactic to solve a legal problem. And we're structured to make it very easy to take on new things when they make sense.
Gerchen: We have succeeded when there's a marriage of complexity around operational aspects, capital needs, and the raw intellectual horsepower of doing cutting-edge things in the law. I think you see a lot of firms that might have one or two of those three, but normally not all.
Seth Meyer (Partner): And everyone here is receptive to new ideas and taking things in a new direction. But you've got to survive the intellectual gauntlet to try and turn that idea from just a rough concept to an actual reality. If you can do that, this is the platform for you.
LD: Those themes are so up front in your mission statement: to achieve exceptional results for your clients, drive innovation and strive for unparalleled excellence. One thing that comes through loud and clear is how Keller Lenkner is a firm that's actually scaled.
Meyer: Again, I think we've been absolutely committed to bringing the defense-side level of client service to every client we work with. At Kirkland & Ellis, I was working for sovereignties and multinational corporations, and there's a certain level of client service associated with those engagements. We take that same mentality here. Whether it's a city or state we represent or an individual person who's out there fighting against corporate America.
Keller: A challenge I have always seen in the market is when you're dealing with a significant number of clients, it's a lot harder to keep your clients abreast of what's going on compared to when you represent a Fortune 500 company. And so we built an infrastructure, using our own processes and technology, so we can communicate with our clients at key inflection points in their cases and give them the ability to talk with a lawyer throughout the entire engagement with us.
Lenkner: We've built a team beyond the traditional roles of a law firm. We have all of the people in-house, both attorneys and professional staff, who manage our clients' cases and speak to our clients day-to-day. This is not a place where we're outsourcing that work to others. We take those responsibilities very seriously.
Nicole Berg (Partner): And I think we all believe that everyone at this firm plays an equally important role in our work for our clients, lawyer or not, including the case managers, client services, the legal assistants, the paralegals. I don't know that all law firms feel that way. There's a sense of ownership and pride that I think makes people want to work even harder. Everybody here will roll up their sleeves and do the work. We're all in the trenches here. That leads to good things.
LD: It's fascinating to observe the investment in your people and the liberty you give your team to own their own piece of the firm.
Keller: Yes, agreed. It's all about people, people, people. We have an incredible assembly of talent from top to bottom. Not just the lawyers, although of course they're exceptional, but the support staff, the people who support client service. We've built an organization around people who are extremely dedicated to their work and that has been a recipe for success.
Gerchen: We've formed an environment where people have far more autonomy and opportunity than normal given their relative seniority or lack thereof. And what has impressed me the most is how people who had no entrepreneurial background – who on paper would look like the most regimented of lawyers – they're the ones feeding up ideas. It's like the Patton quote: "Never tell people how to do things. Tell them what to do and be surprised with their ingenuity and the outcome." That's been our philosophy.
Ashley Barriere (Associate): That's definitely been my experience, as well. The firm very much fosters a team of collaboration, and they want to hear from the younger lawyers. And I think that further speaks to our goal of putting out innovative work product. They want everyone's voice to be heard to reach that end. The firm also has the resources to put its lawyers, even young lawyers like me, up for leadership positions. They want to put them out there in a way that is very rare for plaintiffs' firms. I currently lead the Law & Briefing Committee for the Onglyza and Kombiglyze XR Products Liability Litigation MDL. That is not typically something you would see an associate doing, and it certainly is not every law firm that would support an associate in pursuing that position and taking on that level of responsibility.
LD: To that end, what are your thoughts in terms of those key factors that have allowed you to stand out in the plaintiffs' bar?
Barriere: Well, outside of my leadership position, Nicole [Berg] also sits on the Law & Briefing Subcommittee in the 3M Combat Arms Earplug MDL and the Plaintiffs' Executive Committee for the Paragard IUD MDL. And Ashley [Keller] chairs the Law & Briefing Committee in the Zantac MDL. I think the other firms welcome us because we bring our strategy and writing expertise to the table. It's been three years since the firm was formed and the fact that we've managed to break into what can be a very closed world so quickly is a testament to that.
Meyer: I think the experience we had on the defense side, and for many of us, in our clerkships, gives us a better view into how the other side is likely to act. That cannot be overstated from a tactical advantage. And how arguments will be received by judges at all levels. That the team has all of these different experiences is so unusual on the plaintiffs' side, and it leads to a remarkable way to put together exceptional legal work product. That's a really, really exciting feature of being here.
Ben Whiting (Partner): I'd also say that Adam, Ashley and Travis's previous experience founding Gerchen Keller Capital influences the approach we take to our work today. An entrenched law firm is always going to say, "The idea we came up with is the right one and we'll figure out how to make it work." I think what we're good at is making quick decisions to pivot and reevaluate risks. And using that to keep the ship pointed in a positive direction the whole time. That mentality has really helped drive the growth of the firm and is a strong reason for why we've done so well in just three years.
Postman: And we've always strived to come up with different strategies. Because most of us have avoided specializing throughout our careers, that enables us to come into cases and legal problems with an unbiased perspective. We don't know the standard answer or strategy that most plaintiffs' lawyers in the field would use. And that's actually what led to the arbitration practice.
LD: With your pioneering arbitration practice, what initially led you to recognize this as a strategy?
Postman: One of the things that I think is true about all of us at the firm, another culture aspect, is that we're all kind of contrarians. Defendants are always enforcing arbitration clauses, and plaintiffs criticize them for preventing consumers and employees from getting relief in a meaningful way. They eliminate a class action, and most lawyers say that it's then not feasible to bring the claims in arbitration. As a contrarian, I say, "Well why not? Says who?" If everyone's saying it can't be done, I want to figure out a way to do it.
Then hearkening back to our operational innovation, we saw synergies with what was being done in other large, multi-plaintiff matters. One way to think about our arbitration practice is that it's taking a mass-tort model and making it a couple orders of magnitude more efficient, so that it makes economic sense to pursue smaller claims. We designed our own efficient process, we built the infrastructure to support it, and we've now secured more than $200M in settlements for more than 100,000 clients in just two years. And the amounts we've obtained for our clients are 10 to 20 times more than they would have gotten in any class settlement. That feels good.
We've now had seven federal judges and three state-court judges who have heard complaints from defendants, and not a single one has given that the time of day. I think it's too soon to say how it will change arbitration agreements. I think defendants are still trying to figure out what to do about us.
LD: While arbitration may have earned you that initial success, your portfolio of cases today is also quickly growing. What are some other recent matters?
Lenkner: Yes, we've continued to advance our complex litigation practice with a range of significant matters. We're currently litigating a number of antitrust actions, including against Google, Facebook and Intuit. We also represent consumers in a class action against LinkedIn.
One of our newest partners, Jason Zweig, joined the firm to help grow our antitrust and class action practice. And Zina Bash recently joined us as a partner, as well. We already represent States in different types of matters and, with Zina's background working in both the White House and the Office of the Texas Attorney General, she will help grow our public institutions practice.
LD: Jason and Zina, you've certainly landed in an exciting place. What initially drew you to Keller Lenkner?
Jason Zweig (Partner): I met Ashley when I was at Hagens Berman and we worked together on the Zantac litigation. I noticed right away that the backgrounds of the individuals at Keller Lenkner and their credentials are outstanding. And the energy is something that is quite unique in the plaintiff bar or really any bar. It's an energy that one would expect in a startup enterprise. I've been in three law firms and I don't believe I've ever encountered the excitement and passion that each person I spoke to exhibited about growing the business. And it's contagious.
Zina Bash (Partner): For me, I've known a few of the partners at Keller Lenkner for about 15 years. Aside from being excellent lawyers, they are dynamic and take an enterprising approach to litigation. They are stalwart advocates for their clients and craft novel, winning strategies again and again.
Zweig: I've worked at old defense firms, and you're getting spoiled at Keller Lenkner, because it's not really a law firm in a traditional sense. I mean, it is a law firm, obviously. But in terms of the environment and the energy, it's not something you see at most law firms.
Bash: On the practice front, Keller Lenkner is a trailblazer in anticipating the needs of future clients and establishing practice areas to tackle those needs. The team is composed of tremendous lawyers who are even better people, and I'm just elated to now be their partner and to help grow the thriving firm they have already built.
LD: It's interesting, because most lawyers of this caliber have a very tried and true path out of law school, which usually ends at a defense-side, white-shoe law firm.
Lenkner: Our aim is to erase the controlling notion among law schools and many litigators that the defense side is the only side. We want to create a home where someone who has the background and ability to succeed as a partner at an AmLaw 10 firm can have a platform on the plaintiffs' side where the quality of the cases and the work and the colleagues and the environment are the same.
LD: So what's next for Keller Lenkner?
Gerchen: We have something special that has far exceeded my expectations. I analogize that there are s-curves with the development of a business. I think we've been really good at stacking s-curve on s-curve, and I don't expect any plateau or downward patterns in the near future.
Lenkner: And we'll continue to bring on new people who share the vision for what we're building. People who don't want to just put their heads down and litigate, but want be a part of the drive to do more, to expand, and to be even more of a force nationally. We will continue to set our sights higher, to pursue new claims that have merit where our team can be successful, and to innovate in the legal world. And always, to meet the highest standard of excellence, and to do so for plaintiffs.
Keller: It's true that our team possesses top-line credentials, but our differentiator is what we're doing with that, and the extraordinary impact we're having for our clients. We're challenging the conventional and applying our unique experiences to nontraditional areas of law and business, which I think will lead to a new mindset in plaintiffs' law.
Postman: In our next phase of growth, I think we will continue to operate with a high sense of urgency in everything we do. Plaintiffs win by pushing the ball down the field, and we push very hard. We're aggressive in our work and will continue to be aggressive in taking on new projects. Every day here is exciting. I wake up and I'm anxious to get going.